BLHS

students encourage seat belt use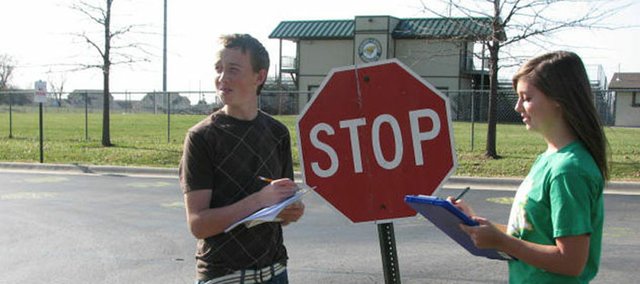 The Basehor-Linwood High School Student Council is bringing seat belts back.
Students from the council recently launched a project to encourage seat belt usage among teenagers, during which they recorded the number of students wearing seat belts as they drove into the high school on two consecutive mornings.
Student Council sponsor Stephanie Harris said the project was modeled after the program conducted last year in Crawford County by Sheriff Sandy Horton called SAFE, Seat Belts are for Everyone.
Basehor-Linwood was approached about SAFE by the Kansas Traffic Safety Resource Office. The group has been spreading the idea for the project across the state, reaching schools in Saline, Wyandotte, Neosho and Montgomery counties, and the Basehor-Linwood Student Council decided to get involved, too.
To prepare for the days of tallying, the students were coached by Daniel Schulte, director of research and evaluation for DCCCA (formerly the Douglas County Citizens Committee on Alcoholism). Schulte educated the students on how to collect the numbers and stressed the importance of keeping the project a secret to ensure valid results.
Senior student council member Jessica Vervaecke said it was a bit difficult to keep her peers in the dark, especially as she was standing in the parking lot looking into each car's windows.
"So many people were stopping to ask us what we were doing," Vervaecke said. "We just tried to make up things like, 'Uh, we're counting car colors for a project.'"
During the two days, the students found 75 percent of drivers and passengers entering the parking lots were wearing seat belts, Harris said.
"The purpose of the data collection is to gauge the effectiveness and get a starting point for improvement," Harris said.
A second round of data will be collected during the spring semester, before which the council will organize several assemblies where the student body can learn about the importance of wearing a seat belt and the potential consequences of not wearing one. Harris said Basehor police officers will be on hand during these assemblies to answer questions and explain the city's seat belt laws.
At the end of the year, the student council is hoping to look at the two rounds of data and see a lot more students wearing their seat belts. Vervaecke and fellow senior council member Nicole Bishop said they were glad to be part of such a worthwhile mission.
"It's for a good cause," Vervaecke said.
"It's important for students to know the dangers of not wearing a seat belt," Bishop said.
Harris echoed the girls' zest for the project, saying she was most affected by a SAFE statement about not buckling up.
"The statement that they made that really stuck with me personally was, 'It takes three seconds to buckle your seatbelt and one second to lose your life.'"