Class provides opportunity to tap into creativity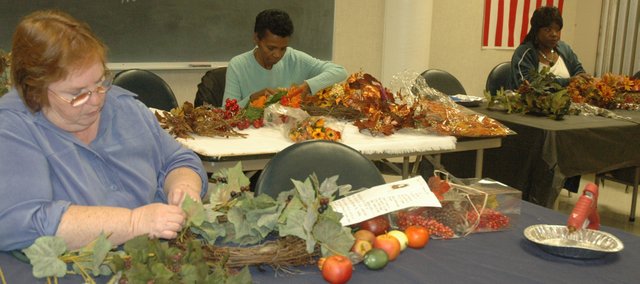 Taking a floral design class can make anyone a bit nervous at first, but design instructor Trish Gerard says once people get started, they are usually amazed at what they can create.
Gerard, who teaches floral design at Kansas City Kansas Community College, says most people who take her classes find out they have much more design talent than they originally thought.
"I think some people are born with an innate design sense, and it's really fun to watch it come out," Gerard, who has been teaching floral design at KCKCC for more than two years, said.
Gerard is currently teaching a six-week class on holiday floral design, where participants design such items as wreaths, a holiday centerpiece and a glitter cone ornament using silk flowers and leaves and other accessories that can be bought at almost any craft store. She says most of the eight women enrolled in the class are return students of hers.

"The majority of the class is returning. They keep coming back, I don't know why," she said with a laugh.
But upon speaking with the students, the question of why they keep coming back time and again brings out a very simple answer: They enjoy it.
Sharon Jones says she's been taking classes with Gerard since Gerard began teaching at KCKCC more than two years ago.
"This is my dream job when I retire," Jones said while putting together a fall wreath during the Nov. 4 class. "You look at (what you've accomplished) and think, 'I did that. I can actually create something.'"
Another student, Linda Dantzler, took her first class with Gerard earlier in the semester when Gerard taught a wedding floral design class.
"I love flowers, I love flower arrangements, and I thought maybe this was something I could learn to do," Dantzler said of why she decided to take the class. "It's just something I love to do. I get a joy out of doing this. It's a joy to me."
Gerard's students say they give many of their creations away as gifts. Some have sold a few and plan to eventually make a business out of what they've learned, once they "get good enough," as Dantzler said. Many of the floral creations are proudly displayed in the students' own homes, as well.
Gerard says not only is the class a way for her students, who are mostly adult women, to explore their creativity, but it also gives them a reprieve from the stress that comes with everyday life.
"Most everybody works fulltime jobs, and they come here, and it's very therapeutic," Gerard said. "They can relax and create."
Gerard's holiday floral design class meets from 6-9 p.m. Wednesday evenings. During each class period, she has a different assignment for her students to work on and finish by evening's end. She spends the first few moments of the class explaining the assignment and handing out a sheet with instructions, and then lets her students run with it. While the women begin creating that night's assignment, amidst much chatting and laughing, she offers encouragement, answers questions and gives feedback when she is asked for it. And, she says, even when she is not.
"I give feedback sometimes when they don't want my feedback," she joked.
The holiday floral design class will be Gerard's last class at KCKCC. She has been in the floral design business herself for nine years and is giving up teaching to focus more on her design work. She says she will miss helping her students realize their own untapped, creative resources. Everyone in her classes has talent, she says, even if they don't at first know it.
"I think we have a way of, between all of us … we pull it out, and they're amazed," she said.
Floral design classes are offered every semester at the KCKCC Technical Education Center. For more information, contact KCKCC at (913) 334-1100.