Saturday, Nov. 14, we witnessed history in the making and at the same time a legacy of the last 40 years at Lansing High School. Coach Errol Logue brought together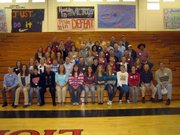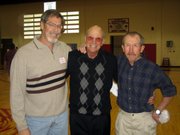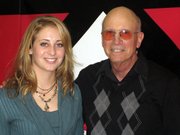 about 143 people for a 40th year reunion of his cross country teams.
Errol and Claudia Logue moved to Lansing, where he started his cross country coaching career in the fall of 1969. After 40 years he has retired.
There was a wonderful dinner along with great entertainment by alumni and former runner, Cecil Shade and his Barbershop Quartet. Then Coach Logue introduced runners from every decade, starting with 1969. Each runner stood and introduced him or herself and told us where they now live and what year they graduated from Lansing. They came from Idaho, Arizona, Kentucky, Massachusetts, Washington, D.C., Maryland, Iowa, Texas and, of course, Kansas.
It was amazing to me how he remembered each one and all of their accomplishments in cross country records during high school as well as college years. He talked about the state 4A championships in the years 1986, 1987 and 1988, also the two individual state champions, Dawn Zimmerman and Matt Logue.
His son Matt is now a cross country coach in Girard, and for the past 15 years the father and son have competed against each other.
Griffin Davis, who graduated in 2007, is now in his second year at KU, presented a wonderful power point slide show with music. This showed photographs and videos of every decade starting with 1969 up to the present and it was fantastic. Every runner there was excited to see themselves as they were "way back when".
I can't say enough about how much we enjoyed just being there seeing these young people reunited with their favorite coach. When I asked Coach Logue what he attributed his success to, his reply was "terrific kids, any coach would be successful with these kids."
My hat is off to Coach Logue. Congratulations, and have a wonderful and happy retirement, you will never be forgotten.