Ballou siblings bound by running
Brother, sister share cross country state experience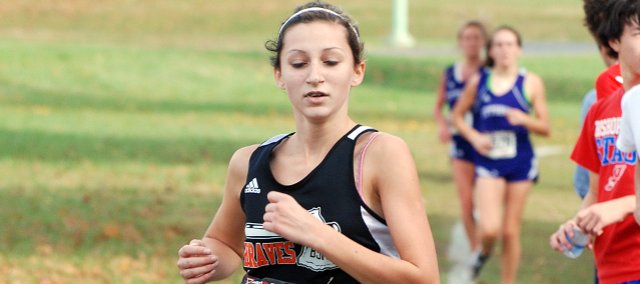 It starts innocently enough.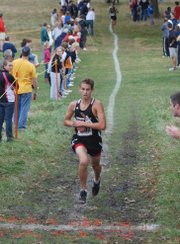 One day a soon-to-be middle school student decided that she might benefit from going for a run with her older brother.
That older brother happened to be Bonner Springs star distance runner Brooks Ballou. The next thing you know, the younger sister became a runner herself.
Mandy Ballou continued running throughout middle school. Now a freshman at Bonner Springs High School, Mandy's hard work and determination paid off, and she was able to join her senior brother at the Class 5A cross country state championships on Oct. 31 at Rim Rock Farm in Lawrence.
Brooks closed out one of the most dominant careers in BSHS history as he finished 11th and became the first Brave since Brock Peterson in 1999 and 2000 to medal at state in back-to-back years. Mandy turned in the best state finish for a BSHS freshman girl in school history when she placed 47th.
It was a historic day for the school, and it was quite possibly the crowning moment so far in the relationship of the Ballou siblings as they got to share the state experience together.
"This year, I ran for my brother because I wanted to go to state with him," Mandy said. "It was something I will always remember being a part of. Running at state is nerve wracking, but I was able to perform well because my brother had my back. He always tells me what I am capable of, though I am not as confident in me as he is."
She admits that she has the "bug" now to run and says that it has really changed her in her personal life.
"In running, you are out of your comfort zone," Mandy said. "It pushes you to do things that you never thought you can do, and people tell you all the time how crazy you are to be running that much distance.
"Since state, I have become more confident in life in general. I feel a little older and am not as shy as I used to be. I feel like I belong."
She credits this rapid maturation partially to the budding friendship that she and Brooks have formed during the fall. She thinks her presence has changed her brother, too.
"I think I have gotten him out of being as shy as he used to be, too," Mandy said. "I am not looking forward to him going off to college because I am afraid I will lose touch with him."
Brooks has been there all along in Mandy's life. When they were both young, members of the Ballou extended family called her Mandy Moo. Brooks accidentally saved the day by not being able to pronounce it correctly—saying "Boo" instead of "Moo." Rather than the cattle sounding name, Boo stuck, and that remains her nickname today. Most friends have her saved to their contact list in their cell phone simply as "Boo," she said.
"I love that nickname," Mandy said. "It is unique, and it represents me well."
Mandy, who is an aspiring poet and a cheerleader in addition to her running, is responsible for Brooks' nickname — but it is not as well known.
"He is going to kill me, but I call him Brooksy," Mandy said. "I chalked his car (windows) with "Brooksy" on it the other day. He'll let me do it, but he punches other people in the arm if they call him that."
Brooks said he saw his sister's potential as a runner all along.
"I thought she could make state. I knew she had the ability," Brooks said. "It was tough for her in the middle of the season, but she really put it together down the stretch. I just think it's amazing that we got the opportunity to run at state together — the only time we could have done it."
He knows that his little sister looks up to him and uses that as a motivating factor in her performance.
"Her goal is to make me proud of her, and she has done just that," Brooks said. "I am a proud brother. In fact, she makes me proud a lot. I just try to be a good role model for her and my younger cousins because there is a responsibility you have when people look up to you."
Their father, Tim Ballou, was a runner and was a two-time state qualifier in high school. Their mother, Rhonda, was victorious in the only race she ever ran in middle school. That pedigree has certainly passed down to the next generation. Brooks is receiving scholarship offers from area colleges where he hopes to study journalism or business.
Meanwhile, Mandy's running career is just taking off. She has three more years to shoot for a medal at state, or perhaps a state championship. Still, she knows that she is going to have to put in the amount of work that her brother has throughout his career.
"The best piece of advice that Brooks ever gave me was that if I put my mind to it, I can do anything," Mandy said.
Brooks and Mandy now are putting their minds to another goal: sharing one more trip to state together when they run for coach Jim Mitchell's track team in the spring.