Busy Bees … Basehor quilters win big after two years of work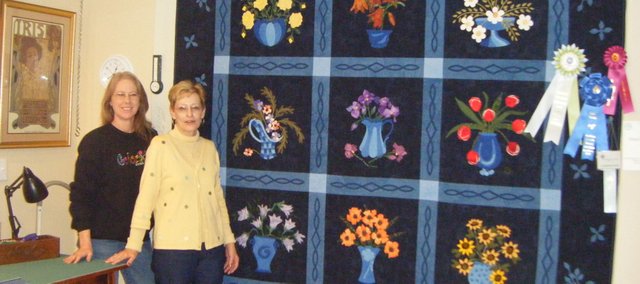 Doris Morelock Hendrickson sees her artwork as far more than pieces of fabric arranged in an appealing way.
To this Basehor resident, each quilt she creates has a personality, a life of its own, and each is bestowed with its own unique name.
"I give all my quilts girls' names because once I start working on them, they become my friends," she said. "I get attached to them."
One of these quilted ladies in particular has received a bit of attention, as it was the first-place winner in an October American Quilter's Society national exposition in Des Moines. Out of 202 entrants, "Flora Elena" with her brightly colored floral arrangements took the grand prize: a bright blue ribbon and $1,500.
"In a show like that, just to get juried in is an honor," Hendrickson said. "But to take home the first-prize ribbon, that's extraordinary."
Before cleaning up in Des Moines, the quilt was awarded a third-place ribbon and a piecer's ribbon in May at the Machine Quilters Showcase in Overland Park, along with $400.
Flora Elena was the product of Hendrickson's and her friend Theresa Ward's talents, as Hendrickson did all the handwork for each block, and Ward quilted the pieces together using a long-arm sewing machine. Both women say they couldn't care less about the money; they will most likely just use it to enter Flora in more shows.
"It's not at all about the money," Ward said. "It's about the ribbons."
"The feeling of taking home that ribbon is better than any amount of money," Hendrickson added.

From thought to finished masterpiece, the quilt took two years to complete, and Hendrickson says she still gets chills when she looks at the work now hanging on a wall in her Basehor home.
"Every time I look at this quilt it's like the first time," she said. "I come in here and see it and still think, 'Oh my gosh, it's so pretty.'"
Hendrickson, who first took an interest in quilting nearly 30 years ago, got the idea for Flora Elena from a book called "Pots de Fleurs," by Kathy Delaney. She entered into a block of the month club at Prairie Point Quilt Shop in Overland Park in which she would receive the design for a new block from "Pots de Fleurs" each month. Hendrickson added her own variations and additions to the designs to make them her own, and she said she wondered throughout the process just how the completed quilt would look.
"It was a mystery," she said. "I knew what each block looked like, but I didn't really know how it would all look put together. Once everything gets quilted, it looks so different."
The border on the quilt is also a Hendrickson original, and Ward, who helps many quilters piece their blocks together, took Flora Elena off Hendrickson's hands to aid in the last leg of the process.
"I didn't think I was good enough to do this for her," Ward said of her role. "I thought, 'Oh no, Doris, that's too much pressure.'"

It took Ward two months to quilt all the pieces, and both ladies were thrilled with the results.
"Just look at all this intricate work she did," Hendrickson said running her fingers gently across the background of the quilt. "It's just unbelievable. We had so many people compliment these tiny details at the show."
Ward remains humble about her hand in Flora Elena, but she says she greatly enjoyed helping Hendrickson with such a beautiful work of art.
"I got a satisfaction out of being able to create it," Ward said. "(Quilting is) a soothing process. It really helps the psyche."
Hendrickson agrees with Ward's assessment of quilting, saying it's like therapy to her.
"Quilting has really taken over my life," Hendrickson said. "I love it. It's No. 1 in my life next to my family."
The women will continue to show Flora Elena, but they don't foresee the beginning of another large project in their near futures. They're content gazing at the glossy decorations pinned to Flora.
"It will be a long time (before we do another quilt)," Hendrickson said. "Right now, we're just two girls from Kansas on cloud nine."