Dazzlers appearing in Macy's Thanksgiving Day Parade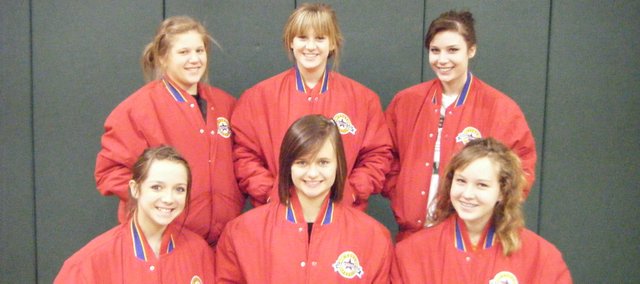 Several members of the Basehor-Linwood High School Dazzlers dance team won't be having a typical Thanksgiving this year.
Six of the girls on the team will spend the holiday not eating turkey and potatoes but dancing their hearts out down the streets of New York City in the Macy's Thanksgiving Day parade.
"It's an amazing opportunity," Dazzlers coach Juli Brown said at a recent school board meeting.
Brown has sent team members on the trip during seven of the last eight years she has been the coach.
"It's the experience of a lifetime," she said.
During dance camp in Emporia this summer, all the girls had the chance to try out for the trip, and on the last day of the camp, freshmen Taylor Miller, Paige Dickey and Jacie Harris, junior Ashley Ladd, and seniors Kristin Taylor and Nicole Bishop found out they were New York bound.

"We're all really excited," Ladd said. "I'm going to be on the phone with my mom every single minute (in New York)."
Throughout the semester, the girls practiced routines they would perform during the parade by dancing along to a DVD at home, and on Saturday, they all boarded 6 a.m. flights out of Kansas City International airport.
"Once we get there, we'll start practicing in the Hilton Hotel," Taylor said.
This is Taylor's second year dancing in the Macy's parade, and she says the experience is unparalleled.
"It's a very long walk," Taylor said, "But it's amazing. It's so fun to see all the people there watching the parade and meet all the other girls."
Though it might be the highlight of the trip, the parade is not the only activity on the girls' schedules. "Shopping" is the collective response from the group when asked what else New York holds.
"Mostly I've been hearing about shopping, shopping, shopping," Brown said. "I think they're excited about the shopping."
Outside the infamous retail of the city, the Dazzlers will also see the Broadway show "Westside Story" and partake in a great amount of sightseeing.
The trip will mean missing some time with family, but to these six ladies, it will be a holiday to remember.
"The best Thanksgiving ever," Bishop said.
The parade begins at 9 a.m. Thanksgiving Day, Nov. 26, and will air on NBC.