KCI

airport prepares for busy holiday travel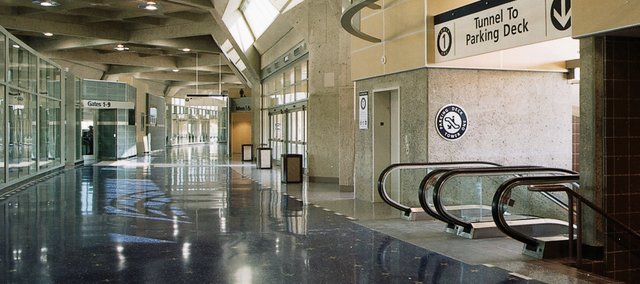 Kansas City International Airport is getting ready for Thanksgiving travelers.
The airport is holding off on Terminal B road construction to minimize inconvenience during the busy travel period. Work will resume next week.
The Kansas City Aviation Department says it expects to serve more than 180,000 passengers Wednesday through Monday. It is suggesting that travelers arrive at the terminals 60 to 90 minutes prior to departure, and two hours ahead of time for international flights. It also is encouraging travelers to use their airline's online check-in service.
The airport is offering one family lane at every security checkpoint for people needing extra time to get through security. This may include families with small children or people with special needs.
KCI encourages checking its Web site, flykci.com, to make traveling easier. You can also download coupons for free parking from the site.
Travel Tips
Here is a list of travel tips from KCI:
• Check flykci.com for real-time flight and terminal information.
• Allow plenty of time to get to the airport, park and check in. Parking in any of the more than 23,000 spaces on the airport grounds will save a few minutes. The new nearby Park Air Express valet parking also is available.
• Thirty minutes of free garage or circle parking is provided for those picking up or dropping off travelers. No parking at the curb is allowed.
• Passengers who are prepared for security screening before they reach the checkpoint help make the process easier for both themselves and other passengers.
• Remember the following three simple steps to going through security checkpoints:
IDs and boarding passes should be readily available.
Shoes and jackets must be removed.
Laptops and liquids (in plastic bags) should be taken out for visual inspection.
• Follow 3–1–1 for carry-on luggage when bringing non-exempt liquids:
3 ounce bottles or less for all liquids, gels and aerosols;
1 quart-sized, clear, plastic, zip-top bag to hold all small bottles;
1 bag per passenger placed in screening bin.
• The liquid restriction applies only to carry-on bags. Pack larger quantities of liquids, gels and aerosols in checked baggage. Infrequent travelers or individuals not familiar with these rules can place all liquids, gels and aerosols in checked baggage.
• TSA officials recommend passengers do not travel with wrapped packages. In order to determine if a package is a threat, a security officer may need to unwrap and inspect the item. Those traveling with gifts should wrap them after they reach their destinations.
• Pack all coats and jackets in checked baggage when possible. All coats and jackets must go through the X-ray machine for inspection.
• When in doubt, leave it out. Travelers who are unsure about whether they can bring items through the security checkpoints should put the items in their checked bags or leave them at home.
• Checkpoint mailers are available at security checkpoints for passengers to mail any small items that are prohibited.
• Pack smart. Check the TSA's Web site, tsa.gov, for a complete list of prohibited items and other security information.
To ensure safe and healthy holiday travel, passengers are encouraged to follow the following Centers for Disease Control tips when traveling:
• Stay home when feeling sick
• Get flu vaccines
• When sneezing and coughing, cover nose and mouth
• Wash hands often.