For all veterans, a fitting farewell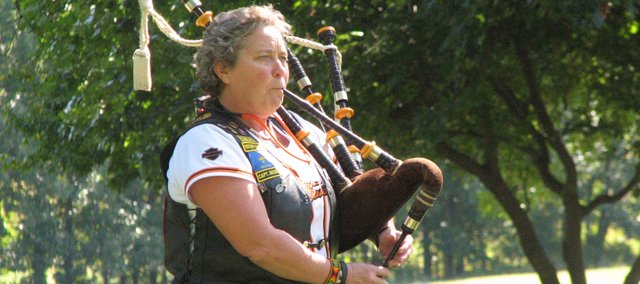 Photo Gallery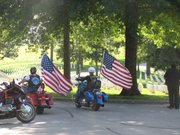 Leavenworth National Cemetery veterans service
Leavenworth — A cool breeze cuts through the trees at Leavenworth National Cemetery. The sun gleams on hands clasped and heads bowed in prayer.
A roll call begins for members of American Legion Post 370 of Overland Park, who are assembled at the front of a group totaling about 30 people. The Legion members respond "here" when their names are announced. On this day, three names go unanswered.
"Those who did not answer today have honorably completed life's journey," said Marty Morgan, American Legion Post 411, Lansing.
On the last Thursday of each month, members of American Legion and Veterans of Foreign Wars posts, Patriot Guard participants, friends and family from across the region meet to properly say goodbye to some of the nation's heroes. The once-a-month ceremony commemorates the lives of veterans who were not given a proper funeral service at the time of their death.
On Sept. 24, Naval Petty Officer 3rd Class Ernest Williams, Army Pfc. Clarence Foster and Army Specialist 4th Class David Metz were honored for their service in the United States military.
"It's something we should be doing," said John Tillisch, an American Legion member who participates with Legion motorcycle riders who attend veterans' funerals. "It's important to be honoring our former soldiers."
After the reading of names, a gun salute rang out in remembrance of the three veterans.
Patriot Guard rider Gloria Jones said she had been coming to the monthly services for several years. Though traveling to the cemetery and thinking about the lives lost is at times tremendously difficult, Jones says she will never miss the event because of personal troubles.
"There are times I feel I can't go," Jones said. "I think, 'I just can't do it.' But then I go, and I feel better because of it. I don't care if it's hot or cold, the soldiers endured a lot more than that."
Organizers of the service pay no mind to hot or cold weather, as well, Jones says, because the service will take place rain or shine.
Jones said she wished more people would attend such ceremonies in reverence of men and women who sacrificed for the country.
"I would like to see us have 200 or 300 people here every time," Jones said. "I'd love to see a huge crowd and more young people coming out to show some respect for these veterans."
Basehor VFW Junior Vice Commander Phil Jenkins has also been coming to Leavenworth National Cemetery for many months. Jenkins said he, too, felt a tug on his heartstrings each month as he stood among the headstones hearing the names of deceased comrades.
"It is sad, but it's a really great thing," Jenkins said of the ceremony. "I make a point to come, and I haven't missed many. We need to remember these people for what they did."
The veterans service takes place at 2:30 p.m. on the last Thursday of every month at Leavenworth National Cemetery. All are welcome to attend.
For more information, contact the cemetery at (913) 758-4136.