Area road projects to be considered for priority list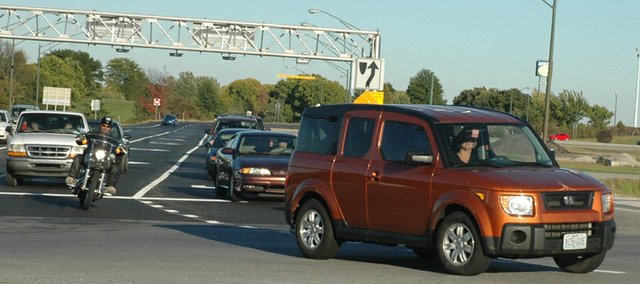 With both the Kansas Department of Transportation and the Mid-America Regional Council planning for the future of transportation in Kansas, area roads targeted for improvement may see some benefit.
Through the T-LINK Task Force, created in 2008 by former Gov. Kathleen Sebelius, KDOT has identified about 400 transportation projects for consideration. The T-LINK Task Force was a pilot program that offered a new way of identifying projects for construction work through getting feedback from jurisdictions and looking at the economic impact any one project would have on a community, instead of just relying on such factors as traffic data.
"(It's) building on work that has been done in the past and redefining it for where we are in today's current economic funding climate," Kim Qualls, public affairs manager for KDOT, said of the program.
Qualls said out of those 400 identified projects, eight have received funding for study, and three of those are in the Kansas City Metro area: the Kansas Highway 7 and Interstate 70 interchange in Bonner Springs, the I-435, I-35 and K-10 interchange in Johnson County and the I-35 interchange addition in southwest Johnson County.
In October, Qualls said, KDOT will be conducting a series of local consult meetings throughout Kansas to help to narrow the list of 400 projects. As KDOT has just come off two 10-year federally-funded transportation programs, and there is no transportation program yet on the horizon, she stressed there was currently no construction funding for any of these projects. But, she said, the work being done now through the T-LINK Task Force was necessary for the future of transportation in Kansas.
"What we're doing all of this for is in hopes of putting together something to present to help (the government) draft another transportation program," Qualls said.
Working closely with KDOT on projects within its region will be MARC, through the Transportation Outlook 2040 campaign. MARC has also identified projects throughout the MARC region, comprised of seven counties and 120 cities, in need of future funding.
"We're not programming specific dollars," said Tom Gerend, assistant director of transportation for MARC. "It's identifying priorities and then looking at those priorities in the context of available resources."
The program, still in the early development phases, has allowed jurisdictions in the region to nominate projects in need of funding. To date, these jurisdictions have nominated $18.4 billion worth of projects to be considered by MARC for its Transportation Outlook 2040 program, in the investment categories of roadway, transit, bicycle, pedestrian, other and multiple. Gerend said that, out of these nominations, a final list of narrowed down projects would be included in the final adopted plan, expected to be drafted by 2010.
Projects up for consideration in Bonner Springs include improvements to 118th Street, construction on 129th Street and improvements to Kansas Avenue. A project up for consideration in Edwardsville is work to be done on 110th Street/Edwardsville Drive.
Projects up for consideration in Leavenworth County include improvements to the Centennial Bridge on Kansas Highway 32, the Leavenworth County Regional Airport, McIntyre Expressway near Kansas Highway 5 and the Lansing bypass on Kansas Highway 7. Also listed is a project for a comprehensive non-motorized transportation system. This project proposes integration of biking and walking trails built throughout several cities in the county to comprise nearly 182 miles.
Gerend said projects ultimately would be determined through guidelines set forth by MARC, as well as through public input.
He said that, as with any KDOT projects, there is no funding now, but he expects the final list of projects to be completed by 2040.
"We expect the vast majority of them to be completed by 2040," he said.
As the project develops further, more information will become available. For current information regarding the 2040 project, visit marc.org/2040. For information regarding T-LINK, visit kansastlink.com or ktoc.net.