Basehor Community Library begins classes on basics of investment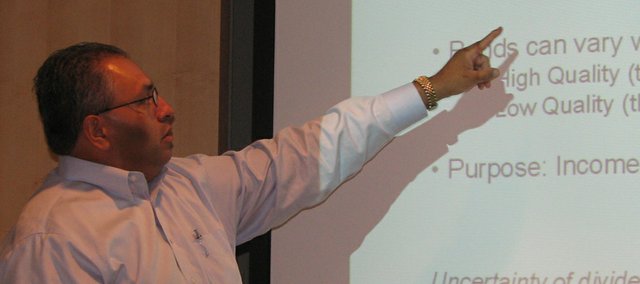 One item it seems everyone wants more of is money.
And making money was the topic of discussion Monday at the Basehor Community Library, where Sage Point investment adviser Julian Espinoza began the first of four classes on basics of investing.
Espinoza explained the differences between types of investments and shared a few secrets to making wise investment choices.
Two elements of investing that are extremely important to consider, Espinoza said, are risk and reward.
"If you're working with an investment advisor, and they're not talking about risk and reward, they're not listening to you," he said. "You need to weigh your risks versus your returns."
Espinoza explained taking bigger risks meant having the potential to make a larger sum of money, while low-risk investments typically had lower rewards.
The most common types of investments are stocks, bonds, money markets and mutual funds.
Money markets are the lowest risk investments with the lowest possible return, and small-company stocks are the highest risk investments with the highest possible return, Espinoza said.
Stocks are tricky investments, Espinoza said, because the market can change at any time.
"It's kind of like a crap shoot sometimes," Espinoza said.
When putting money into bonds, Espinoza said it was necessary to take into account the credit quality of the bonds. U.S. Treasury bonds are of higher quality than the everyday "junk" bonds.
Mutual funds – a collection of stocks, bonds, etc. – offer a person the opportunity to have diverse investing with the risk spread across several areas.
More than anything else, Espinoza said, diversification is paramount when investing. This is a time-tested way to attempt to balance risk and reward by putting money into numerous types of investments that are expected to perform differently during various economic conditions.
"As the saying goes, don't put all your eggs in one basket," Espinoza said. "It all comes down to you're trying to make money, and diversity is key to doing that."
Espinoza will instruct three additional classes from 6:30 p.m. to 8 p.m. Oct. 12, Oct. 26 and Nov. 9 at the Basehor Community Library. Each class is free. For more information, or to register, go to basehorlibrary.org or call (913) 724-2828.