MIll Valley strikes fast, drills
BSHS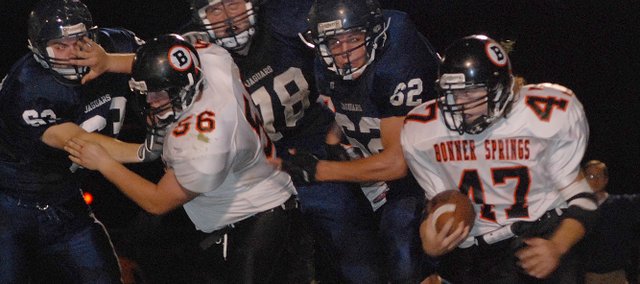 Photo Gallery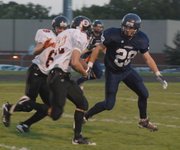 Mill Valley 42, Bonner Springs 6
Fresh off of its first victory of the season against Lansing, the Bonner Springs football team hoped to upend another of the Kaw Valley League's traditional powers on Friday.
Unfortunately for the Braves, they ran into a Mill Valley squad that is starting to find its groove — and also had a home field to protect on homecoming.
The Jaguars scored two touchdowns in the first 5:19 of the game and never looked back in a 42-6 victory.
According to BSHS coach Lew Kasselman, the game was won in the trenches.
"They got off the blocks; they were beating us. That was obvious," Kasselman said of Mill Valley's offensive line. "We were too timid, and when you're timid you're just going to get smoked."
BSHS received the ball to start the game, but a 17-yard completion from Brandon Eastland to Lucas Porras on the first play of the drive was nullified because of a penalty. The Braves went three-and-out, and then they had their punt blocked by Chris Mayer and Matt Acree.
MVHS capitalized on the short field by scoring an 8-yard touchdown on its first play as Taylor Brown trotted into the end zone on a sweep to the right. Mark Biesma's extra point made it 7-0 with 10:40 left in the opening quarter.
The Braves turned to tailback Max Barren on their next drive and he quickly found success with carries of 2 and 14 yards.
"He runs hard, we knew that, and then he's awfully quick as well," Mill Valley coach George Radell said of Barren. "Sometimes it's difficult to see a hard runner show as much quickness as they've got on film, but in person in addition to running hard, (he's) very quick, (he's) got good feet."
A holding penalty, an incomplete pass and a sack of Eastland by Jamie Roth and Leo Beck caused the drive to sputter out. Mill Valley used five running plays — three of double-digit distances by Kyle Brunson and two more by Brown — to reach the end zone. Brown's 9-yard run made it 14-0 with 6:41 left in the quarter.
Bonner Springs mounted its best drive of the game when it unleashed an 84-yard, 11-play march that lasted 4:27. Barren ran for 60 yards of that distance, including the final play, which was an 8-yard touchdown run. The extra point was no good, but the Braves were within 14-6 with 6:03 left in the first half.
Mill Valley responded quickly with a heavy dose of Brown and Brunson. The pair accounted for all of the yardage on a 7-play, 60-yard drive, and Brunson capped it with a 3-yard run that pushed the lead to 21-6.
"Our offensive line, including week one and week two, have been a pretty solid unit," Radell said. "And if the line is making the holes and Kyle is running it hard, and Taylor ran it hard, then (we're going to have success)."
Bonner Springs utilized its air attack to try for a late touchdown. After successful passing plays from Eastland to Korey Sanborn and Porras got the Braves to the Mill Valley 28-yard line, Eastland had a pass picked off by Brunson.
The Jaguars then went 72 yards in 41 seconds. Brunson ripped a 15-yard run, quarterback Macauley Garton hit Brown on a fly pattern down the right sideline for a 47-yard gain and Brunson rushed for a 5-yard gain. After a Mill Valley timeout, Brunson punched in a 6-yard touchdown run and sent the Jaguars into halftime with a 28-6 lead.
Mill Valley grinded out a 10-play, 67-yard drive to start the third quarter, and Brunson ended it with an 8-yard touchdown run. After a Bonner Springs three-and-out, Mill Valley scored again on a 32-yard touchdown pass from Garton to Biesma.
Leading 42-6 with 5:44 left in the third quarter, the Jaguars allowed some of their reserves to close out the game.
Kasselman said he was disappointed with his squad's performance just one week removed from a stellar all-around performance against Lansing.
"Last week we came out and had a little fire in our step and were getting after them, and this week we're catching people," he said. "You've got to have intensity. Those are things that we've got to correct, and our leaders have got to step up and we've got to get the ship afloat again."
Brunson finished the game with 24 carries for 162 yards and two touchdowns. Brown had nine carries for 70 yards and two scores. Garton completed two of five passes for 36 yards and a touchdown.
Barren led BSHS with 124 yards rushing on 22 carries. Eastland completed 13 of 26 passes for 140 yards.
Bonner Springs (1-3) next plays at 7 p.m. Friday, Oct. 2, at home against Piper (3-1).