Fire department visits elementary school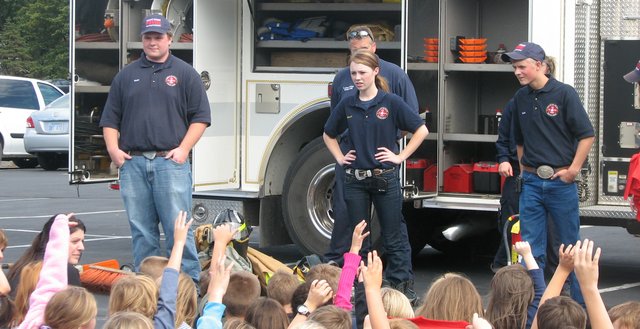 Members of the Fairmount Township Fire Department kicked off fire prevention week Monday at Basehor Elementary School.
Cadets of the department and Lieutenant Chris Angermuller talked to elementary students about several practices that could prevent or protect them during a fire.
Grades kindergarten through fifth sat cross-legged in the school's parking lot to see the Fairmount fire engine and hear the time-tested mantra "stop, drop and roll."
After a few cadets shared safety tips, Angermuller explained to the students why firefighters wear so much equipment.
"We have to put all this on in one minute," Angermuller said as a cadet demonstrated the dressing routine. "That's a lot of equipment to put on in one minute, so we practice a lot. We try to save as much time as we can."
Second-grade teacher Leslie Tennyson volunteered to don the fire gear next to the delight of all the students.
"These boots are heavy," Tennyson said as she strutted down the line of kids. "You have to be strong to wear these heavy boots."
For more on this story, see Thursday's issue of the Sentinel.