Stress might lead to dental woes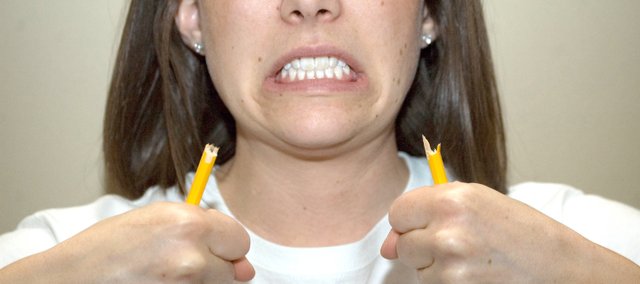 Baldwin City dentist Chris Leiszler has seen on average at least one case a week in recent memory of someone with a broken tooth, the result of grinding or clenching their teeth.
On some occasions, Leiszler has found those patients tell of recent stress they're going through. For instance, he said there was one patient dealing with spousal issues, and that the current state of the economy "probably has a little to do with" some of the grinding and clenching of teeth he's treating at his office.
The current state of the economy and all that accompanies it — tighter budgets, being laid off or the higher likelihood that one could be laid off — doesn't do a person's stress level any favors.
It's possible that stress is doing a number on a person's teeth — whether it's clenching and grinding teeth during the day or subconsciously when asleep at night.
Lawrence dentist John Hay said chats with patients have revealed high stress levels.
"I definitely see patients under a lot more stress these days and it revolves around the reality of budgets, people losing their jobs, losing their benefits," Hay said.
At the same time, he said, linking that to any solid statistic of more cases of people clenching or grinding teeth because of said stress is hard to do.
"I can't say I've seen an uptick in this," said Hay, who has been practicing dentistry for 22 years.
Another local dentist, Grant Ritchey, who operates an office in downtown Tonganoxie, posed the question of a correlation between recent economic times and more cases of grinding or clenching teeth to an online dental forum that is global, but primarily consists of American and Canadian dentists.
Feedback he's received has been consistent: It's an interesting question, but hard to track the correlation.
"They wouldn't be surprised if that were true," Ritchey said about his forum findings. But no one really came out and said, 'I'm seeing three times as many broken teeth or migraines.' Nobody really came out and said that. But everyone was intrigued by the questions.
"If any researchers are tracing or studying this, it will take a few years to go through research, and have compiled and vetted through the literature."
People who grind their teeth use jaw muscles to put pressure on their teeth and move them side to side. Others will clench, or apply pressure head on. Still others both grind and clench their teeth.
Ritchey mentioned migraines and other headaches being a result of all of the above. Other factors having nothing to do with stress, though, can cause grinding and clenching. The way a person's jaw is configured, their bite or even airway issues, such as sleep apnea, and the types of medication people are taking can lead to clenching and grinding, Ritchey said.
"As a hypothetical situation, as things get tougher economically, if people are laid off, or have reduced hours of work, that has to increase the stress, so I think that could likely happen. Whether or not I'm seeing that, I don't know."
That being said, he noted teeth grinding and clenching are neurological responses to stress.
"They've shown that in rats, so it's not just a made-up human situation," Ritchey said.
Dealing with the condition
Whether it's clenching or grinding, people doing it can notice a day-and-night difference — literally.
Hay cited a statistic from a continuing education class he had taken that when people fall asleep, they allow themselves to clench five times more often than when they are awake.
"Your mind says 'knock this off,'" Hay said about clenching or grinding when awake, adding there's far more pressure on back teeth than front teeth.
Leiszler threw out a similar statistic — when people are asleep, they put eight to 10 times more force on their teeth than when they're awake. And, that overnight clenching or grinding can be part of a person's regular sleep cycle, like rapid eye movement, Leiszler said.
To improve the health of one's teeth, Hay recommends people plan out a bedtime routine to help reduce stress — limit caffeine intake before going to bed and "try not to take problems of scheduling tomorrow to bed with you," though he said his spouse gives him good ribbings for dolling out the advice.
"My wife laughs at that," Hay said. "She says 'it's easy to say that, but you're one of the worst at it."
Correcting the problem
There are several possible factors that cause clenching and grinding. Ritchey said he works to determine whether it is an underlying problem or episodic.
If they're underlying issues, he seeks to correct them so they don't plague patients their entire lives.
Episodic situations are treated as though the problem likely will go away in a few months or after a limited time.
For instance, if a stressful situation is causing the clenching and grinding, a nightguard, a type of mouthpiece that protects a person's teeth when asleep, could manage the clenching until the stressful episode abates.
"It acts like a helmet for your teeth," Ritchey said.
For more long-term problems, Ritchey applies a shrink-wrap overlay that establishes a healthy jaw position over time prior to definitive correction.
As for the mouthguards, some discount stores sell mouthpieces to wear for bed, but Leiszler urges people to steer clear of them because he claims they're squishy and actually make a person's jaw muscles do more work.
The mouthguards, or bite splints as Leiszler calls them, he prescribes are made of hard, dense acrylic. It's a protective covering that supports a person's bite, Leiszler said.
All three dentists urged anyone who thinks they may be grinding or clenching to observe when headaches and jaw pain are most noticeable to determine whether it's taking place when a person is awake or asleep.
Being proactive is key, as grinding and clenching is "very repairable and can be addressed before it becomes problematic," Leiszler said.
As for worrying about the ongoing tough times, Leiszler had words of encouragement.
"Quit stressing about the economy," he said. "We'll get through this."