Car show to bring in funds for seniors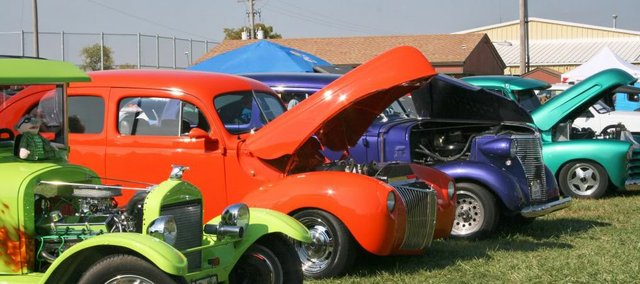 In its 12th year, the Basehor-Linwood Project Graduation Car Show is on pace to be one of the biggest yet.
Show Chairman Bob Vervaecke said 150 vehicles had already been pre-registered for the Oct. 10 show, which was the largest number the committee had ever seen.
"We usually have somewhere around 300 to 400 cars registered in all, and it looks like this year will be a big one," Vervaecke said.
The Project Graduation car show began in the early 1990s as a fundraiser for the organization that sponsors many high school senior events including the senior breakfast, baccalaureate and a drug- and alcohol-free party after senior prom. The event quickly became one of Project Grad's major moneymakers, bringing in about 75 percent of each year's necessary funds.
"Project Grad requires about $18,000 to $20,000 each year for all those senior activities," Vervaecke said. "The car show is by far our largest fundraiser."
Vervaecke said the show was possible each year because of the help from Project Grad's loyal sponsors, even in a time when many were feeling financial strains.
"We have wonderful sponsors," Vervaecke said. "Even with the down economy, people have really stepped up. We couldn't do it without them."
Car enthusiasts from all around the area travel to Basehor for the show that usually distributes about 150 awards in several different categories. The majority of entries are classic cars from the 1970s or earlier, Vervaecke said, but the event has included some interesting vehicles throughout the years such as snowmobiles, tractors and low-rider bicycles.
"It really is fun to see what people enter and to talk to them about why they entered that vehicle," Vervaecke said.
A group of 20 volunteer judges walks around the Basehor-Linwood High School lawn where all the cars are parked for display and inspects each one carefully. The judges then rally together and score all the entries to determine the day's winners.
"You definitely have blisters on your feet by the end of the day," Vervaecke said of the judging process. "That's a lot of cars to get through, but we do it, and we hand out a four-foot trophy to the Chairman's Choice winner. If you're going to win, you should make it worthwhile, right?"
Huge three-foot trophies are also presented to the Best of Show car, truck and bike winners.
Along with the main attraction, the car show provides other entertainment for the expected 1,000 spectators with hot food, games, music and commercial vendors.
"We have great food," Vervaecke said. "That's one of our attractions with barbecue sandwiches and giant turkey legs. Every year, there's a lot to do. We really try to make it fun for all the participants, because if people don't have fun and don't bring their cars back, the show can't grow."
Registration on site will run from 8 a.m. to noon Oct. 10 at Basehor-Linwood High School. The cost to register is $20 per vehicle, and spectator admittance is free. The awards will be distributed at 4 p.m.
For additional information, contact Bob Vervaecke at (913) 724-2389.