Exhibit tells history of intimate wear
Museum opens display of men's undergarments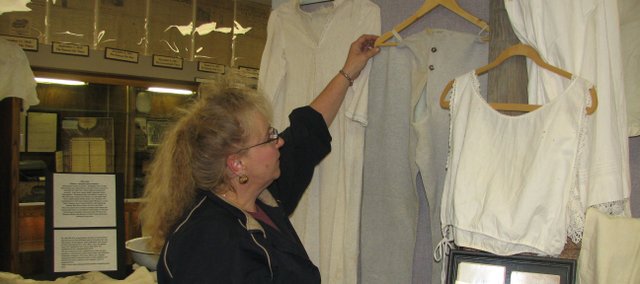 Though the undergarment industry seems to have always centered on the female figure, men have shared a few of the underwear woes throughout history.
Because of its success with a May exhibit titled "Victorian Secret," which depicted the evolution of women's lingerie, the Basehor Historical Museum recently opened a sequel to the display that caters to both women and men.
"Victor and Victoria's Secret" debuted at the museum Oct. 1. The new exhibit contains some of the same pieces from "Victorian Secret," as well as pieces of men's underwear from the 1600s through the 1900s.
"We had lots of requests to bring ('Victorian Secret') back," museum director Carla Crawford said. "Several people from surrounding areas didn't get to see it and wondered if we could bring it back. We also had several people ask us what men wore, and we didn't want to discriminate. We had to have something for the ladies to look at, too."
Pieces designed for men were more difficult to find, Crawford said, but the museum managed to snag numerous examples of the way men's underwear has changed.
Beginning in ancient history with something as simple as a loin cloth, men's garments in the 15th and 16th centuries were as complex as women's under apparel with several layers, buttons and strings. These styles included tightly fastened corsets and codpieces that were meant to exaggerate the triangular male frame and draw attention to the groin.
One of the most prevalent forms of underwear found in the exhibit for men in the 1900s was called a "union suit," a full-body covering with different variations in front and back flaps.
Union suits helped men keep their outer clothes clean by preventing contact with their skin. The material for this suit ranged from wool to cotton, and it generally kept men warm and cozy during the winter and undesirably toasty in the summer.
"Oh they had to be hot and miserable," Crawford said. "Especially out working in the sun, I can't imagine."
Eventually, the suits were made out of lighter cotton or a mesh fabric, which males during the time of World War II found quite comfortable.
Separate pieces finally hit the scene in the 20th century. Two undergarments were more breathable than one, which made summers even more bearable. In the 1930s, Coopers, Inc. came out with a new item that took the men's underwear industry by storm: the jockey. These knitted y-flap drawers came in different lengths and promoted the most comfort yet seen in undergarments.
The new design soon gave way to an elastic waistband, which eliminated cumbersome buttons and ties, and modern boxer briefs were born.
Both men's and women's undergarments have changed significantly across decades, but both genders battled discomfort in favor of fashion. Both genders also experienced great relief as styles changed, and as their underwear better accommodated natural body lines using softer fabrics.
"It's interesting how men kind of went through the same thing (as women)," Crawford said. "You don't really think about men having a hard time with their undergarments, but they did. I think we're all glad times have changed."
"Victor and Victoria's Secret" will be on display at the museum, 2812 N. 155th St., through the month of October.
Visitors are welcome during the museum's regular business hours, 9 a.m. to noon on Tuesdays, 1 p.m. to 4 p.m. on Thursdays and 9 a.m. to 2 p.m. on Saturdays.