Fall colors starting to show throughout region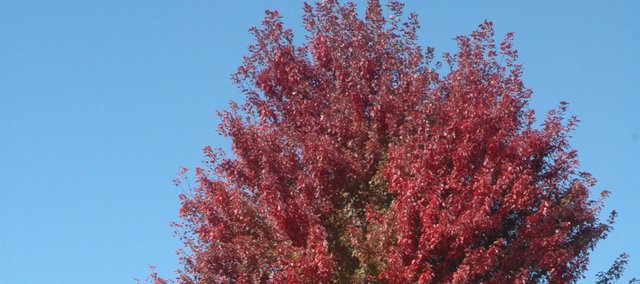 Hues of red, orange, yellow, green and purple glow in the sunlight against the pale blue sky. No, it's not a rainbow; these are the fall colors of the trees.
As fall sets in, trees begin their yearly ritual of trading green leaves for the colors that inspire pumpkin carving and hot apple cider. There are many factors that play into the longevity, color and intensity of fall leaves. Roger Boyd, director of natural areas and a professor emeritus of biology at Baker University in Baldwin City, said two main conditions determine the brilliance of fall foliage.
"Most important is moisture, which has been good," Boyd said. "The second factor is cool temperature, as that triggers two changes in the leaves. First, the breakdown of chlorophyll, so that the yellows and reds that are already there can be seen. Second, cool temperatures in some trees also trigger an increase in anthocyanin, which is a red-orange pigment."
A dry August and hot, dry winds are among unfavorable conditions that can stunt a colorful fall in eastern Kansas. Conversely, a light frost can be beneficial to spectacular fall colors, although extremely low temperatures can dramatically speed the color-change process.
"A hard freeze would break down all the pigments and kill the cells they are in, and the leaves would become brown almost overnight," Boyd said. "But I think we are on target for good color."
Jennifer Smith, a horticulture agent with Kansas State University Research and Extension in Douglas County, said sunny days and cool nights intensify color in leaves.
"If we have rainy, cool days in September and October, if they don't get enough sunlight, they will fall more quickly," Smith said.
Leaves usually start changing after Labor Day weekend, when the days become shorter, but predicting the peak time to view seasonal colors is difficult. Some trees turn sooner than others, and maples tend to change later in the season.
Most leaves will have turned brown or fallen by the end of October, Boyd said, so the best of the seasonal show usually has ended by then, but there are too many variables to predict peak viewing.
"My father always felt the third week in October was best for sugar maples in eastern Kansas," Boyd said.
One way to identify a tree is by the colors of its leaves. Red maples, as well as some oak trees, take on crimson and purple hues.
"The oaks vary more at a distance and can be confused," Boyd said. "They tend to be several shades on the same tree from green to purple to reddish, but not as solid as the others. (There's) more variability from year to year."
The autumn purple ash develops a deep purple tint, Smith said, while other ash trees like the white ash turn yellow. Certain species, such as maples, display color better than others.
"Maples are probably the best," Smith said. "Sugar maples have really brilliant hues of orange and yellow, a little red."
There are many places to enjoy the seasonal colors. Any place up high with a wide view is good, Smith said.
— Emily Johnson is a journalism student at Kansas University