Fire safety stressed to children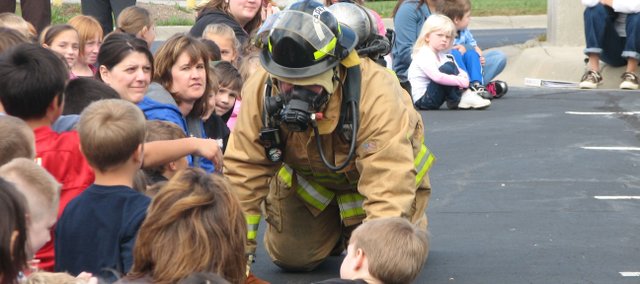 Members of the Fairmount Township Fire Department kicked off fire prevention week Monday at Basehor Elementary School.
Cadets of the department and Lt. Chris Angermuller talked to elementary students that afternoon about several practices that could prevent or protect them during a fire.
Grades kindergarten through fifth sat cross-legged in the school's parking lot to see the Fairmount fire engine and hear the time-tested mantra, "stop, drop and roll."
Cadet Kaylee Smith discussed the importance of having a working smoke detector and advised the students to test door knobs for heat if they think fire might be on the other side of their bedroom doors.
"Get down low to the ground, and make sure to check your door knob to see if it's hot," Smith said.
Another safety factor touched on was the difference between tools and toys. Cadet Jake Bennett held up several objects including an axe, a saw and a teddy bear, and asked the children to tell him which items were tools – not to be played with – and which items were toys.
Angermuller explained to the students why firefighters wear so much equipment. He revealed the use behind each piece of clothing as Bennett demonstrated the dressing routine.
"What do you think these are for?" Angermuller asked as Bennett reached to pull up his suspenders. "They hold our pants up. We'd look pretty funny if we got to a fire, and our pants fell down, right?"
On this afternoon, Bennett slowly put on his garb, but Angermuller told the audience this process usually transpired quite rapidly.
"We have to put all this on in one minute," Angermuller said. "That's a lot of equipment to put on in one minute, so we practice a lot. We try to save as much time as we can."
Second-grade teacher Leslie Tennyson volunteered to don the fire gear next, to the delight of all the students.
"These boots are heavy," Tennyson said as she strutted down the line of kids. "You have to be strong to wear these heavy boots."
The department continues to visit Basehor-Linwood schools throughout the week to spread messages of fire safety.