Ghost tour group sets its sights on Memorial Hall tours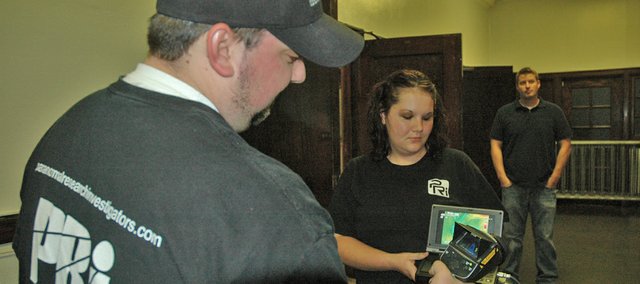 Memorial Hall has played host to concerts from the likes of Elvis Presley to the Smashing Pumpkins. But it's not live music that will be showcased next month at the venerable facility in downtown Kansas City, Kan.
With its nearly 90-year history, Memorial Hall also has long been rumored to be a place for ghost sightings, including a stagehand, possibly electrocuted and killed in the early 1980s during a concert, and Patsy Cline, who performed her final concert there in 1963 before an ill-fated plane ride took her life.
Next month, Memorial Hall will be open for public investigations, during which visitors will get the chance to tour the building in the dark and learn paranormal investigative techniques.
A group that included paranormal investigators and members from Ghost Tours of Kansas gathered Sept. 29 inside Memorial Hall for a media event to preview next month's events and tour the place, specifically, those areas where rumored hauntings have occurred.
Members from Ghost Tours of Kansas, an organization that offers tours of rumored haunted sites in nine cities in the state, said the media night was just a taste of what visitors will get come November.
At the media night event was Nick Spantgos, lead investigator and founder of Paranormal Research Investigators. Earlier in the month, Spantgos visited Memorial Hall and recorded with a thermal-imaging camera what appears to be a human figure on the main stage at Memorial Hall. He also recorded what sounded to him like a woman's voice, though no women were around him at the time. He said he was there for about five hours that night, and it would take about 30 hours for every hour spent investigating to analyze the data and try to, as he calls it, "disprove," the findings.
By the media night, he hadn't come up with any solid conclusions yet and was there to do a bit more research.
"Before putting your credibility on the line, you've gotta be 100 percent positive," Spantgos said, noting that where most people were ghost skeptics, he was a ghost critic, approaching the investigation from a scientific standpoint. In his time as an investigator, he said he had seen and heard things he couldn't explain, but it would only be when, and if, he couldn't disprove something that he would call it a ghost.
"I'm going to do everything possible to disprove it," he said of the evidence he had found.
Still, he said the audio recording of a possible woman's voice was definitely exciting.
"I'm pretty sure that's an amazing piece of evidence," Spantgos said.
At the media night, Memorial Hall general manager Shawn Sample showed visitors to an upstairs ballroom, where he said he had heard what sounded like footsteps walking across the empty room or music playing when no one was inside. He also said a bathroom light outside the ballroom would frequently turn on by itself.
Sample said he couldn't be sure if these were sounds he was actually hearing and experiencing or just his mind playing tricks on him, but the tantalizing thought of "what if" was a major part of what made his job so much fun. He has been managing the place since mid-May.
"It's definitely interesting," Sample said. "Part of the excitement of being part of a building such as this is to every once in a while have the hair on the back of your neck stand up."
Beth Cooper, co-owner of Ghost Tours of Kansas, offered her opinion of the reported sighting of Patsy Cline's ghost.
"It's just a residual energy, like a tape being played over and over again," Cooper said, noting that, if Cline was appearing at Memorial Hall, it wasn't to make contact with any living persons there.
If Cline or the stagehand are haunting Memorial Hall, neither seemed to make their appearance known at the media night. But Spantgos said ghosts at the venue were a definite possibility.
"I think it does have paranormal activity," he said.
Sample said he expected those experiences he has already had to come and go just as they always have. He calls it "business as usual."
"You know, at 2 'o clock in the morning, this building is kind of creepy," Sample said. "But in a good way. I like that kind of stuff."
For more information about the upcoming public investigations at Memorial Hall, contact the Ghost Tours of Kansas at (785) 383-2925.