Industrial park talks proceed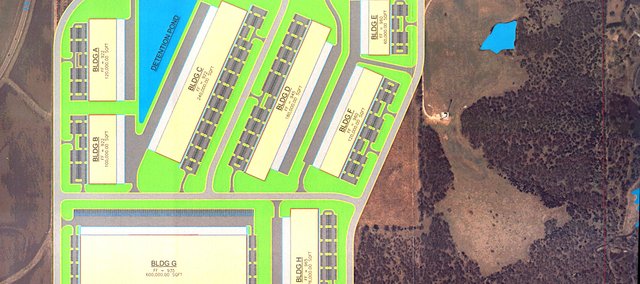 The plan for a new industrial park in Leavenworth County got one step closer to becoming more than just an idea as the initial engineering reports for proposed industrial parks were recently completed.
On Thursday the Leavenworth County Port Authority's land search committee met to discuss the draft report from TranSystems. The report detailed possible layouts for proposed sites in Leavenworth and Tonganoxie.
"It's exciting to have some detailed facts on how to layout the particular sites and to have industrial development in the county," Dan Gutshall, land search committee chairman, said. "It's another step in the process that we are going through. Any time you make progress it's a good thing."
The initial report laid out a plan for the Tonganoxie site. Of the 237 acres available for the Tonganoxie Park, TranSystems only designed about 144 acres.
The report stated, "The easterly portion of the site has steeper slopes, an existing pond, and a large watershed that crosses through the property. Development of this property can still occur, but is probably conducive to office/service type structures, or buildings that would require very little truck traffic."
The report gave examples such as a bioscience lab at the Bayer Animal Health lab in Shawnee.
The preliminary design layout for the Tonganoxie park has eight buildings. The largest building was proposed to be 600,000 square feet and the smallest was 60,0000 square feet.
The overall cost to develop the Tonganoxie park, including off-site utility improvements, adjacent roadway improvements and a 10-percent contingency, was estimated at $13,072,300 or $90,780 an acre on the 144 developable acres.
"This value compares favorably with similar development within the Kansas City metropolitan area," the report states.
The report also states that the Tonganoxie site does not have access to rail service, air service or river water service, but "has ready access to the Kansas City metropolitan area interstate system."
Mike Yanez, city administrator, attended Thursday's committee meeting.
He said there were several comments he made about the report and he had a few changes he wanted TranSystems to look at before finalizing the report. Among them included the development of only half of the proposed land available for the park and the cost to develop the land for an industrial park.
He said some of the cost could be spread out between benefit districts and developers who would benefit from the utilities being brought to the park.
The next step in the parks development is to send TranSystems the thoughts and concerns both Leavenworth and Tonganoxie had about their proposed sites and to finalize the report.
The land search committee is also working on getting a request for proposals for a firm to conduct a market feasibility study to see what kind of industry can come to the proposed sites.
"We are still not in the decision-making position," Gutshall said about the LCPA choosing which site to develop. "There still needs to be some research done on a market feasibility study and financial considerations need to be addressed. We have to get all of the pieces to the puzzle. As soon as we get those pieces collected, then we can start making decisions."