LHS

tennis takes second at regionals
Briggs wins regional title in singles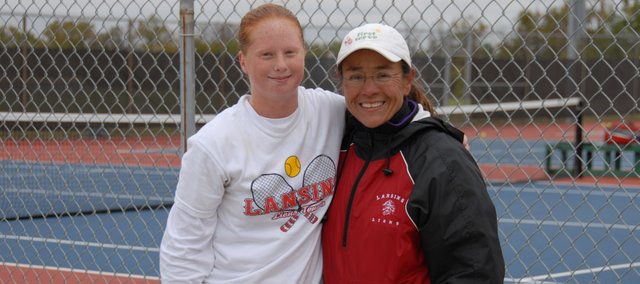 Lansing High tennis coach Rachel Elkins knew she had something special four years ago when an athletic freshman class entered the school and packed her roster.
Now, the group is all seniors, and Elkins will take five of them to the Class 5A state tournament on Friday and Saturday in Wichita.
Lansing placed second at the Class 5A regional tournament on Saturday at Seaman High School. Topeka West won the team championship.
Amy Briggs won the singles championship by beating Seaman's Lisa Grause in the finals, 6-4, 6-2. Briggs now is 23-4 this season. LHS also qualified both of its doubles teams for state. Ariana Domke and Anisha Patel placed third in doubles and Katelyn Griffen and Allison Dillon finished fifth.
Domke and Patel are 23-7 this year and Griffen and Dillon have a 21-2 record.