Area preschoolers participate in 'Read for the Record'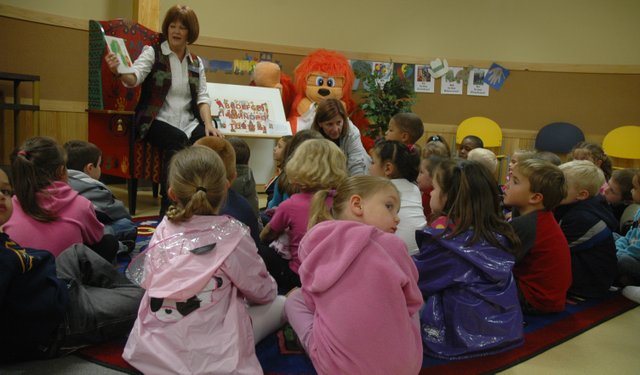 The story of an insatiable caterpillar, always hungry for such foods as fruit and salami, had some area preschoolers in stitches Thursday afternoon.
The youngsters were taking part in Jumpstart's Read for the Record, a worldwide program where adults read the same book to preschoolers on the same day as a way to instill a love for reading as early as possible. This year's chosen book was "The Very Hungry Caterpillar," written and illustrated by Eric Carle. The story is about a caterpillar who eats and eats and eats until it turns into a cocoon and finally, at the book's end, a beautiful butterfly.
"The caterpillar, he ate cheese," said JT Painter of his favorite part of the book. JT was among a number of Delaware Ridge preschoolers in Bonner Springs who were read to by Jeanne Dunbar, Storytime coordinator for the Bonner Springs City Library. JT, a 4-year-old, nodded his head solemnly at the question of whether he would be reading more books in the future.
The book is celebrating its 40th anniversary this year, and Dunbar said children throughout the years have loved the book for its humor and its pages full of bright, saturated colors. The story is a simple one that children can relate to – so much so that several preschoolers yelled out "he turned into a butterfly!" before Dunbar got to the page illustrating the caterpillar's inevitable and colorful transformation.
"Just the excitement," Dunbar said of how "The Very Hungry Caterpillar" benefits young readers. "The book is one of the very best to get children interested in reading. There's a dimension to the book that's just so fun."
The DRE preschoolers were one out of eight preschool groups that attended the Read for the Record program at the Bonner library, including A Step Above and Trinity preschools. More than 300 students attended throughout the day, and Dunbar said she expected this wouldn't be the last time she would see many of them perusing books at her place of work.
Children in Pam Maughmer's preschool classroom at Basehor Elementary School also read the book.
This year's goal was reaching 1 million readers around the globe.
"We're part of a record today," Maughmer said. "We're part of a program that's trying to get 1 million readers today. To do that, we're going to read this story."
Jumpstart, the group organizing the record day, is a nonprofit organization that tries to ensure every child in America enters school prepared to succeed. Read for the Record is one of several yearly events that take place in an effort to fulfill the organization's mission. Jumpstart's Web site reports that students in America, Japan, Germany and Brazil participated in the quest for 1 million readers.
"Reading at this level, that love for books at this level is all about getting kids ready for school," Dunbar said. "And if we can get them to the library at this age, they're lifelong patrons."
Though movies and television entertain, books often weave themselves into a child's very framework, Dunbar said, in a way that no other diversion can.
"There are things you get from books you can't get anywhere else," she said. "Books give you the ability to use your thought processes about things, make your own opinions and decisions about things you're reading about."