District's scores receive excellence rating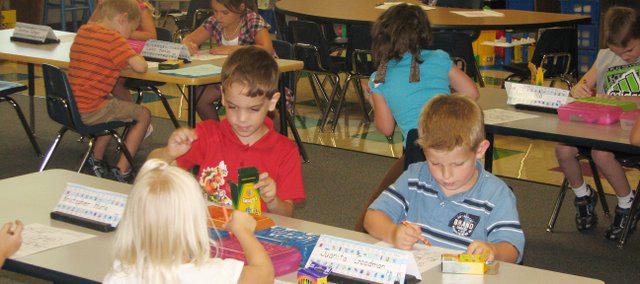 Basehor-Linwood USD 458 schools have received high recognition from state education officials for standardized testing results.
Basehor Elementary, Linwood Elementary, Glenwood Ridge Elementary and Basehor-Linwood Middle School received Standard of Excellence awards from the Kansas State Department of Education in both reading and math. Basehor-Linwood High School fell short in reading but received a Standard of Excellence award for math.
Of the 1,116 students tested in the district, 87.3 percent met or exceeded the state proficiency standard of 70.5 percent in math. Of the 1,095 students tested in reading, 92 percent met or exceeded the state standard of 76.7 percent proficiency.
Basehor Elementary Principal Teri Boyd said she was thrilled with the results from the testing.
"I am very proud of the kids and teachers," Boyd said. "We intentionally work toward a standard of excellence in the way we group our students with reading and math. If kids are having trouble, we put them in smaller classes and bring in an adult para(professional) to give them added attention. We also allow our advanced students to advance even further by pushing them to achieve their best."
Linwood Elementary Principal Cindy Hiebert and Basehor-Linwood Middle School Principal Mike Wiley echoed Boyd's happiness with her school's performance.
"We're very pleased to have made Standard of Excellence in six out of eight categories," Heibert said. "We attribute our success here at LES to high-quality teaching and attention to the individual learner. We work really hard to provide daily teaching and interventions to the individual learner, and we use teaching strategies that have been thoroughly researched and found to promote the most positive learning experience."
Wiley said it was nice to see the middle school's and district's efforts rewarded in such a fashion.
"I was very pleased to see the (Standard of Excellence) announcement," Wiley said. "I think it shines a good light back on our students, teachers and parents and all the hard work they do."
All buildings in the district made Adequate Yearly Progress, or AYP, this year, as well. AYP is the amount of improvement schools in each state must meet in reading and math each year. It is determined by assessments students in grades third, fourth, fifth, sixth, seventh, eighth and 11th take each spring.
AYP went into effect as a part of the 2001 federal No Child Left Behind Act. Each state's Board of Education sets achievement goals progressively higher each year to hopefully reach the ultimate goal of having each child at 100 percent proficiency by the 2013-14 school year.
The 2009 testing results are quite similar to those of 2008. Last year, all buildings in the Basehor-Linwood district made AYP and received a building Standard of Excellence in reading, while four out of five received a building Standard of Excellence in math.