Doctor says bye to community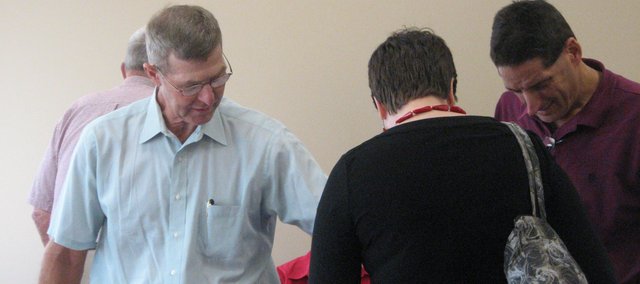 After more than 30 years of service in the community, Basehor's first veterinarian has said so long to his practice.
Larry Ringel started at the Basehor Veterinary Clinic, 15510 State Ave., when it opened in 1977. He was previously working in Bonner Springs, and when the partnership of that practice dissolved, he picked up and moved to Basehor.
"It was close to Bonner, and I liked the area," Ringel said of his decision in the 1970s to move. "I was the first vet there in town."
It was there at that clinic Ringel finished out the remaining decades of his career, caring for the pet population of Basehor. The familiar faces, both human and animal, were what kept Ringel excited about coming to work each day and what he said he expected to miss the most.
"I met a lot of great people there," Ringel said. "All the support I had and the quality and types of clients I had. I enjoyed being in Basehor and caring for their animals."
Combining his practice in Basehor and elsewhere, Ringel worked in veterinary medicine for 40 years. This number, along with a desire to take it easy and pursue a few hobbies, fueled his decision to put away his stethoscope.
"I think it was just time," Ringel said. "I had reached retirement age, actually I passed it, and I was ready to devote more time to other interests. It was just time to pass it on."
With his devotion for his patients and their human counterparts and his fondness for the work itself, Ringel could not pass on his clinic to just anyone.
Basehor's new veterinarian Kelly Vader Lightfoot took over the practice for him in September, and Ringel said he had the utmost confidence in her ability to do the job.
"She is extremely knowledgeable," Ringel said of Lightfoot. "From my discussions with her, it seems like she will run the practice somewhat like I did. She has a compassion for animals and people, and she is very energetic. I think she will take over and probably improve the entire practice."
As for Ringel, he already has plenty of activities on his retirement list. He and his wife moved from Bonner Springs to the countryside in Alma, setting up home on the same farm where Ringel spent his childhood years. Renovating the house and yard have kept him and his wife quite busy thus far, Ringel said.
"We have so much to do with the house," he said. "It's an old stone house built in the 1860s, and we're fixing it up. I'm really looking forward to relaxing in the country."
Despite his eagerness to become settled in this new, yet well-acquainted life, Ringel says he will always remember and be grateful for the support he had in Basehor.
"I really want to thank everyone who I worked with and the friends I made," he said. "I want to thank everyone who came to my reception (Sept. 27) and everyone who helped put it on. That was wonderful."