Resident mourns faithful companion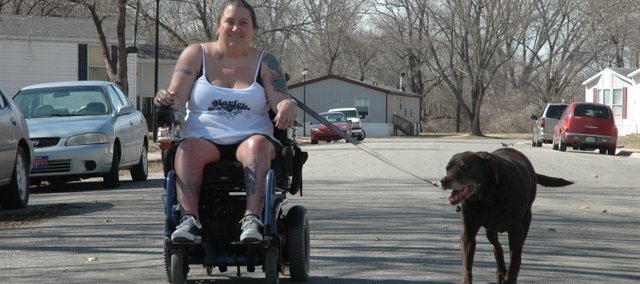 Cherie Armstrong met her best friend as next door neighbors 11 years ago.
The two quickly bonded and became inseparable. So when the neighboring family prepared to move out of town, Armstrong was asked to take over her friend's care.
That was the beginning of Cherie and Mocha, master and dog, best friend and companion and a well-known duo among the Edwardsville community.
"She was with me everywhere I went," Armstrong said. "She was just a good girl and she was my best friend, absolutely without a doubt."
Mocha, age 12, recently passed away and Armstrong has had to say goodbye to her constant companion.
Because Armstrong is in a wheelchair, caused by an injury sustained in a car accident, Mocha was somewhat of a service dog, but without the formal training. Armstrong said Mocha was protective of her and accompanied her on many walks around their Edwardsville neighborhood.
With Mocha's passing, Armstrong is dealing with losing her friend, but she finds relief in a special message Mocha left behind.
Years ago, Armstrong decided she wanted to honor her best friend by tattooing Mocha's paw print on the top of her thigh, the spot Mocha would always jump up on to get her leash put on for walks.
Mocha's paw was dipped in ink and then stamped on Armstrong's thigh for the tattoo artist to copy. Now, every time Armstrong looks down, she's happy to see a reminder of her friend.
"When I did it, I just thought it needed to be there," she said. "But now I'm really glad I did it."
Over the years the two got so close, Armstrong said she even thought they started to look alike.
"We both have crazy eyebrows and dry, patching elbows," she said. "They say pets start to take on their human's traits."
Armstrong chose to have Mocha cremated and will get her ashes soon. With so many ways to remember her best friend, Armstrong said she's happy of the 11 years they had together.
"Everybody loved her everywhere I went," she said. "She was just a good girl."