Zumba class offers place to let loose, feel good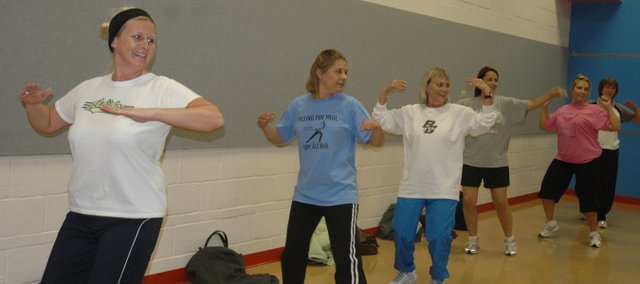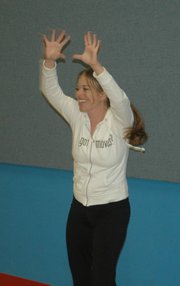 A room full of T-shirt and tennis shoe-clad ladies sit around in groups, chatting, laughing and stretching. They are expectantly awaiting their workout instructor.
Shortly after Cristina Martinez enters the room she shouts, "Let's begin, here we go!" and turns on the music. It is clear this isn't your everyday aerobics class.
Martinez is an instructor of Zumba, a high-energy workout that utilizes well-known Latin dances such as salsa, cumbia and merengue.
The class, which Martinez has been teaching in the small multi-purpose room of the Bonner Springs Community Center, has been scheduled Tuesday nights for the past seven weeks. This Tuesday, the class was full of first-timers, many of whom began the hour-long workout laughing at themselves in self-conscious amusement as they tried to maneuver the unfamiliar dance steps. Toward the middle of the class, Martinez set them straight.
"The best thing about Zumba? There's no right or wrong," Martinez said, asking her class to not be concerned whether they were getting the steps right, but just that they were getting a good workout and having fun while doing it.
The point of Zumba, she says, is to have fun.
Martinez is the owner of Casa de Fitness, a fitness center out of Kansas City, Mo. Martinez said she started the business by accident about four years ago after going to the gym as a way to get back into shape post-childbirth. She says it was the combination of the Latin cardio class she took that day and a friend of hers who was already Zumba-certified that got her started in a direction she never expected to go.
"It was a fun form of fitness, as opposed to the alternative, which is not so fun," Martinez said.
Martinez became Zumba-certified herself in 2005, and even trained with the man who originated the Latin-inspired dance-exercise fusion in the mid-90s, "Beto" Perez. She started teaching Zumba classes, and they became so full that she had to add more and more classes to her schedule, making the start of an actual business — opened about three years ago — an inevitable next step.
At Casa de Fitness, classes in such areas as pilates, yoga and judo are available, but Martinez says Zumba is the specialty of her workout center. She also offers on-site Zumba classes at several area community centers. Each class includes such dances as reggaeton — a blend of reggae and hip-hop — and quebradita — a Mexican country dance. Martinez says a participant can burn up to 700 calories from just one class, but the calorie-burning isn't the only benefit of Zumba.
"It's something that you do for yourself that becomes addictive," she said. "You feel good about yourself."
Of course, Martinez said, there is another benefit of Zumba not to be overlooked.
"Some people would say the sex appeal of it. The husbands comment about their wives coming home and dancing like this," she said with a laugh and a swivel of her hip.
At the Bonner Springs Community Center, Martinez teaches six-week sessions, and has just started her second six weeks. She said that anyone was welcome to join at anytime, however. She has seen the class grow over the weeks and expects there to be even more growth as the Zumba-craze catches on.
"I think it'll grow. I think it'll definitely grow until we have to take over the gym, instead of this little room back here," Martinez said.
Anyone of any age, Martinez said, was welcome to sign up for her class, and she will modify it to cater to the needs of any age-range and workout or dance skill level.
And those who believe they have no skill in either area? Martinez insists they might get the most benefit out of a Zumba class.
"It's always the people who say … 'No, I have two left feet,' who have the most fun out of everybody in the entire class," Martinez said. "We get very animated and very involved."
Zumba classes are from 6-7 p.m. Tuesday nights at the Bonner Springs Community Center multi-purpose room. The fee is $30 for each six-week session. For more information, contact the Bonner Springs Parks and Recreation department at (913) 422-3404.