Fort Leavenworth gets lesson in preparedness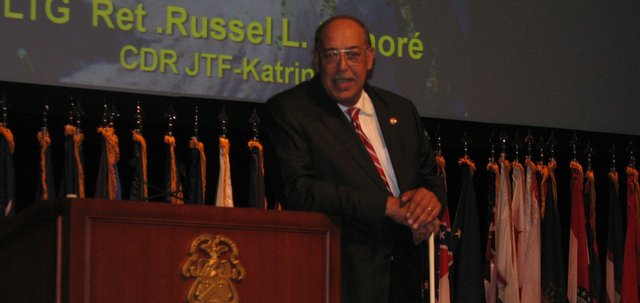 Robust laughter sounded through the doors of Eisenhower Auditorium at Fort Leavenworth's Lewis and Clark Center.
The audience was in stitches Tuesday over the comedic presentation style of Lt. Gen. Russel Honore, who commanded a task force in New Orleans to help victims of hurricane Katrina.
Despite his humorous tone, Honore came to Fort Leavenworth that day with a serious message. He visited the center to discuss the necessity of being prepared for such natural disasters as Katrina. He stressed the importance of having a survival plan both at the personal and national level.
"We have a national response plan," Honore said. "But we don't have a national preparedness plan. How much sense does that make? One dollar spent on preparedness saves $9 on response."
For more on this story, see Thursday's issue of the Sentinel.