Five questions: Anti-freeze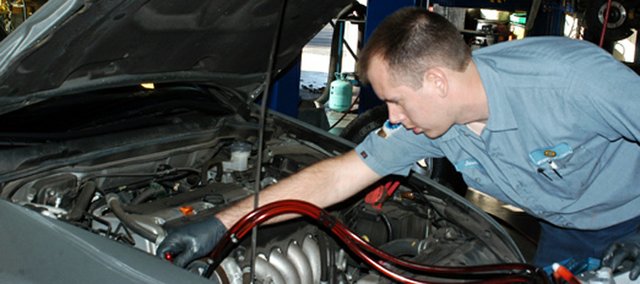 Q: What is the main problem car owners face in the winter, and what do you suggest to prevent it?
A: Make sure you have a miniature survival kit in your car in case it breaks down or goes off the road. Good items to have include a blanket, nonperishable foods and a working flashlight. Don't leave the engine running if you are stranded because the fumes could make you sick, although this is typically not an issue in newer cars.
Q: What maintenance routines need alteration in cold weather?
A: Make sure your washer fluid is filled up and check on it occasionally, because it will run out faster than you think. If your car dates before 1995, you should change the weight of oil you use from 5W-30 to 10W-30. The first number determines the initial thickness of the oil, and the second number determines its thickness when warm. Also change your wiper blades before winter. Most wipers have one rubber blade, but some have two or three, and the heavy-duty ones will not last any longer but they will perform better.
Q: What winter road treatments are damaging to cars?
A: Sand and rock salt from the roads can scratch and eat through paint, and even cause premature rusting if left untreated. The damage is usually minor, but taking your car to the wash within three days of contact with sand or rock salt will help to prevent damage. Wax will also help to protect the paint, but it wears off quickly.
Q: What is the best way to ensure a strong battery throughout the winter?
A: Making sure your battery is strong to begin with is a great start. You can have it tested at a local auto care store. If the charging system is working and you have a good battery, everything should be fine, just don't do things that will wear it down more quickly like leave the lights on.
Q: How can car owners without a garage best protect their vehicle when leaving it outside in harsh winter weather?
A: Waterproof car covers will keep rain, dust and dirt off your car, but they can also freeze to it if they get wet. Make sure you keep your car clean to prevent damage from harsh weather and road treatments.