Salon contributes sales to raise school funds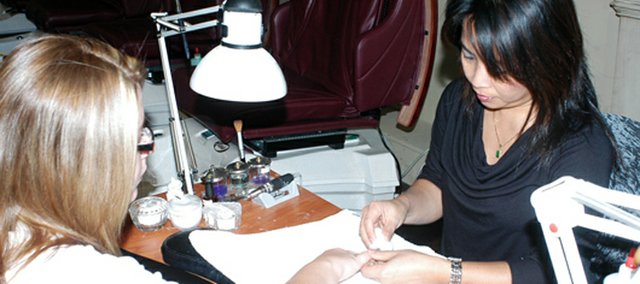 Need a manicure or pedicure? Want to help your child or grandchild's school?
NailCare salon, at 5558 Hedge Lane Terrace, has found a way to let you do both, by contributing to a school of your choice when you purchase one of their services.
"We just thought since we are in the community we should do something for the neighborhood," said Lan Ngueyen, the salon's co-owner. Ngueyen said the program, which got under way this month, began after an Edwardsville counselor asked the salon to contribute to United Way.
Now, after a customer gets a manicure, pedicure or both, the salon will make a contribution to the local school of the customer's choice. So far, donations have been pegged for schools in De Soto USD 232, Bonner Springs-Edwardsville USD 204 and Basehor-Linwood USD 458.
A manicure at NailCare costs $15, and $1.50 is donated to a school. A pedicure, which costs $25, results in a $3 contribution. A pedicure and manicure service, which costs $37, brings a contribution of $4.50.
Ngueyen said the salon tries to ask customers where they would like to contribute even if they don't have children in school.
"Because the economy is bad and a lot of schools are cutting off some of the funding, we want to help," Ngueyen said. "We get a lot of teachers coming in and are a bit sad because they can't do activities because of budget cuts."
Ngueyen wasn't sure how much the program has brought in, but hopes that in a few months the business can write checks to schools.
"We just started last week," she said. "We're using word of mouth, because the best referral is by mouth. We have had some new clients that do come in and are coming back. It's a great thing."