Basehor-Linwood finishes fourth at
KVL

volleyball tournament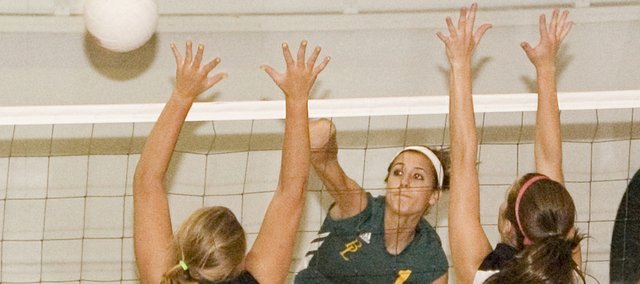 The Basehor-Linwood volleyball team placed fourth at the Kaw Valley League Tournament on Saturday at Perry-Lecompton High School.
Photo Gallery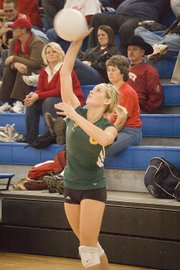 BLHS volleyball takes 4th at KVL Tournament
"We did do well," coach Tammy Zydlo said. "It ended on a bittersweet note."
The ending was a loss to a familiar foe — Tonganoxie.
After losing to Tonganoxie in the first game, 25-19, Basehor-Linwood led by nine points early in the second when Tonganoxie made its move. During Tonganoxie's run, BLHS players were out of position when some points were scored. In other sequences, the Bobcats hit the ball out of bounds, enabling THS to record the point, Zydlo said.
THS gained momentum in the match, and the Bobcats failed to take it back.
"In volleyball momentum is so important," Zydlo said. "It can swing in half a second. We make a few mistakes and momentum swings the other way. I kind of think in the second game that is what happened."
Tonganoxie went on to win the game, 25-19. As a result of the loss, BLHS placed fourth for the second time in three years.
Tara Chumley and Courtney Poe each recorded four kills against Tonganoxie.
"I am proud of the girls… it has been awhile since we've been in fourth place," Zydlo said. "Still, I think they walked away disappointed. We wanted to beat Tonganoxie."
Blocking made a big difference against Tonganoxie. The Bobcats recorded just five blocks, as opposed to other matches where they had as many as 19.
"I just have a team of great blockers," she said. "I am sure if I took the stats, it'd show we were better than in the previous three years. We had five blocks and lose 19-25, 22-25."
The Bobcats' day started and stopped with losses to Tonganoxie.
Tonganoxie defeated Basehor-Linwood, 25-20, 25-20, in the tournament opener.
BLHS recorded 14 kills and seven blocks in its opening match.
After the loss to Tonganoxie, Basehor-Linwood defeated Santa Fe Trail, 25-18, 25-20. Courtney Hooks led the team with nine kills.
The Bobcats defeated Bishop Ward in the next match, 20-25, 25-21, 25-21. Cassy Bever led the team with nine kills and Hooks recorded eight blocks.
"I am proud of my team's ability to come back," Zydlo said. "We knew if we lost to Bishop Ward our chances of advancing would be done. They took the challenge and they met it."
Basehor-Linwood defeated Bonner Springs in two games, 25-11, 25-13, in the final match of pool play. The Bobcats recorded eight aces and missed just two serves in the match.
Hooks led the team with eight kills.
With the win, Basehor-Linwood advanced to play in the semifinal round against powerhouse Lansing and lost, 25-12, 25-16. LHS went on to win the league title.
"They had a couple of servers that had incredible jump serves, and they scored six or seven points right off the bat," Zydlo said.
In nonleague action, Basehor-Linwood defeated Ottawa last week in a dual, 25-16, 25-17, 25-21. Bever led the team with nine kills. Tara Chumley was second with seven kills. Chumley also recorded eight blocks.