BSHS

graduate wins $10,000 playing lottery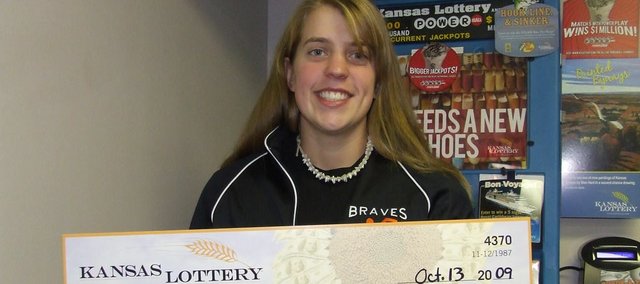 When Teran Holter's parents asked her what she wanted for her 19th birthday, she didn't know what to tell them.
The 2009 Bonner Springs High School graduate couldn't come up with any items she wanted. So when she suggested a few lottery tickets instead, she never expected the surprise of a lifetime.
"My mom and I kind of looked at each other. We couldn't believe it because it's like a once-in-a-lifetime thing. We thought there's no way," Holter recalls of her thoughts as she scratched off her winning ticket.
The $50 worth of tickets bought by Holter's parents resulted in $10,030 in winnings. While Holter said she had played the lottery before, she never expected to win so big.
After receiving the tickets, Holter remembers sitting at a table with her mother going though all the tickets. She came to one ticket that presented growing excitement with each new space uncovered.
When the winnings were finally revealed, Holter said her mom originally thought it said $1,000.
"My mom thought it was $1,000, but I saw a 10," Holter said. "I slid over closer (to show her), and we didn't believe it at first. My mom was like, 'Oh my, that's real.'"
Still a little disbelieving, Holter took her ticket to the Bonner Springs Price Chopper to verify her winnings.
"We couldn't believe it 'til we saw it," she said.
Holter, who is currently studying criminal justice at Kansas City Kansas Community College, has already spent most of her prize money.
She put about $8,000 toward paying off her truck and put the remaining $2,000 in the bank, where she said it would stay for a while.
"I was really happy when I paid off my truck," she said. "My truck wasn't much, but I don't work that much because I'm in school, so it's a big relief to get it paid off, and I don't have to worry about making monthly payments."