Congressman finds music effective stress relief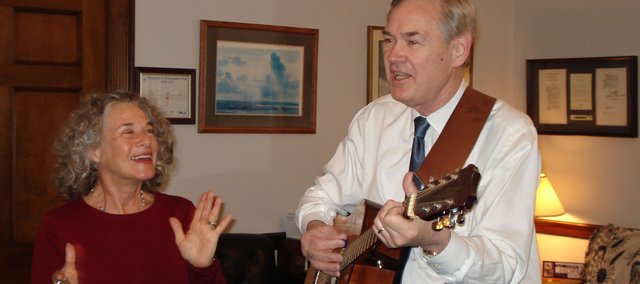 Whenever the soft sounds of a strumming guitar mixed with a voice singing early folk or rock melodies is heard throughout the Longworth House Office Building in Washington, D.C., it is a fair assumption those sounds are coming from Dennis Moore's office.
Moore is a member of the Blue Dog Coalition, a faction of moderate-to-conservative Democrats serving in the House of Representatives. He has been a member of Congress, serving the 3rd District, since 1998 and was a district attorney in Johnson County for 12 years before that.
But he says the sound of music has been running through his veins for many more years than he has been a public figure in either the realms of law or politics.
"From the time I was a little kid I always liked music," Moore said during a recent phone interview.
Moore began learning to play the guitar in his early teen years and started giving public performances in college. He even wrote some of his own numbers – songs he refers to as "political satire" – including one right around the end of the Nixon administration.
"Oh Dick, you're such a peach of a guy, they'll never impeach such a peach of a guy," as a couple of lines from the song go.
During his time as a district attorney, Moore started a group with two assistants, who were also good friends, called Denny and the Doo Dahs. Moore's group would perform covers of well-known songs like "This Land is Your Land" and "Cotton Fields" for nursing homes during lunch hour.
In his current position as congressman, Moore still finds time to play and sing. He says he and several other members of Congress often hit the acoustic night at a club in D.C. called, fittingly enough, the Democratic Club, where they play rock songs for an attentive audience.
"I enjoy it, and people seem to enjoy it, and it's just a nice way, honestly, to relax and get through some of the pressure here, you know?" Moore said of singing and performing.
Moore's passion has given him the opportunity to meet, and even play, with some well-known artists in the music business, such as Carole King and Peter Yarrow, of Peter, Paul and Mary – two musicians Moore said he had been a fan of for years. He recalls a particular conversation with Yarrow about one of the folk group's most famous songs, long rumored to have references to smoking marijuana.
"Peter promised 'Puff, the Magic Dragon' was just about a boy and a dragon, not about anything else," he said with a laugh.
Moore has no plans to attempt to reach such heights of musical stardom, but says he just enjoys playing, and that it occasionally offers some stress relief at the office.
"It's more fun than anything else," Moore said. "It's just a fun way to release tension when you've got a lot going on. … I have a guitar at the office, and I have one at home here … and (I'll) do a song or two for myself and then start working."
Moore says he plans to continue playing and singing and would even like to get what he calls a "guitar caucus" together, made up of congressional Democrats and Republicans who may not see eye to eye in matters of politics but who can be brought together over a simple guitar sing-a-long.
"Bipartisanship for a change," Moore said. "What a radical notion, huh?"