Military speaker stresses disaster preparedness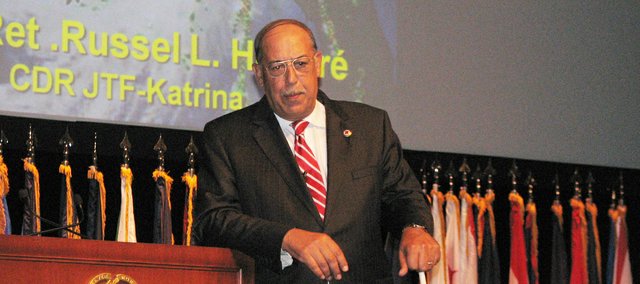 Robust laughter sounded through the doors of Eisenhower Auditorium at Fort Leavenworth's Lewis and Clark Center.
The audience was in stitches Tuesday over the comedic presentation style of retired Lt. Gen. Russel Honoré, who commanded a task force in New Orleans to help victims of Hurricane Katrina.
Despite his humorous tone, Honoré came to Fort Leavenworth with a serious message. He visited the center to discuss the necessity of being prepared for such natural disasters as Katrina and stressed the importance of having a survival plan both at the personal and national level.
"We have a national response plan," Honoré said. "But we don't have a national preparedness plan. How much sense does that make? One dollar spent on preparedness saves $9 on response."
Katrina will not be the last of the horrific effects Mother Nature can have on an area of the country, Honoré said.
"At the end of the day, we could have another Katrina, and the outcomes will be the same if we don't learn from the lessons of Katrina," he said.
One of the lessons Honoré said Americans should learn from the 2005 hurricane is to erect buildings that are more equipped to deal with storms.
"Most of the buildings that matter downtown are covered with glass," Honoré said. "If 90 mph wind hits glass, it's going to break. That's building for aesthetics, not security."
At home, Honoré said people could make sure they were personally ready for a natural disaster by creating a survival pack, having knowledge of first aid and organizing an evacuation plan. The survival pack should include three days of food, water, cash and important documents saved on a disc or thumb drive. The cash will be necessary if electricity has been lost in the city, and ATMs are useless. The documents could be vital in insurance claims, Honoré said.
"A lot of people lost their insurance papers and the proof they owned their houses (during Katrina)," Honoré said. "Save those files so you have them. And the food should be real survival food. You don't want to put food in (your survival pack) that you're going to break down and eat on a Saturday night because you don't want to go to the damn store."
Once a person is prepared, Honoré said make sure family members were prepared. Taking these precautions allows people to remain safe until further assistance reaches them.
"If you become your own first respondent, if you're prepared, you might be able to participate in the ultimate human experience: saving a person's life," Honoré said.
Bottom line, Honoré said, being proactive is far better than being reactive. At home and across the country, Americans need to be ready for the worst-case scenario.
"We get better and better at response every time disaster strikes," Honoré said. "But getting good at response is like getting good at closing the gates after the hogs get out. We have to get on the side of preparedness instead of responsiveness."