Minus coach, Bobcats upend Chieftains in double-overtime
Basehor-Linwood overcomes constant adversity, beats Tongie for emotional district victory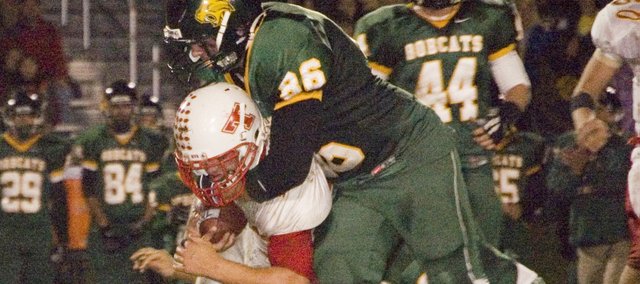 An already injury-plagued Basehor-Linwood football team had to cope with another absence Friday — its football coach.
Photo Gallery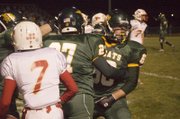 Basehor-Linwood 28, Tonganoxie 27, 2OT
BLHS coach Steve Hopkins was missing from the sideline during the Bobcats' 28-27 double-overtime victory over Tonganoxie in the Class 4A district opener. He was in Arkansas at a funeral for his father, Jimmy T. Hopkins, who died of cancer last week.
Just one week earlier, the Bobcats presented their coach with the game ball for his father after they'd pounded rival Lansing in a game that Jimmy T. Hopkins had hoped to attend.
Against Tonganoxie, the Bobcats again found themselves playing for their coach and his family. Head assistant coach David Svoboda took the reins in Hopkins' absence. Minus their head coach, and minus injured players Logan Ross and John Schewman (Derek Shandy and Ryan Murphy later were lost to injuries during the game), the shorthanded Bobcats rallied together and found a way to win.
Hopkins, who later watched the tape, said it was amazing how hard both teams played. The game didn't always look pretty for both teams, but it was a gritty performance.
He said it was a great game where his players managed to make a few more of the plays.
"It is a game of inches, and we got a few more," he said.
Following a potentially crushing turnover from Tonganoxie in the final two minutes of regulation, cornerback Shawn Marin picked off a Brandon Leppke pass to help force the game to overtime. Prior to that, the Chieftains knocked the Bobcats out of the red zone with under four minutes to go with a combined sack of Leppke by Jason Espeland and Jeff Sims on second down and a Dane Gonser sack on third-and-16.
THS senior running back Jeremie Maus busted a 49-yard touchdown run with 10:33 to go in the fourth quarter, and an extra point from Amos White, who hit all three of his attempts, tied the game at 21.
Tonganoxie running back Austen Holloway gave the Chieftains confidence early with two first-half rushing touchdowns. On the opening drive, he devoured 58 yards on four carries, capping it with a 41-yard score.
Basehor countered with a 9-yard touchdown pass from Leppke to Ryan Murphy in the first quarter and a 15-yard strike from Leppke to Richie O'Donnell in the second quarter. Bobby Courtney successfully kicked both extra points.
The game was tied 14-14 at halftime.
Leppke scored on a 3-yard run during the third quarter that put the Bobcats ahead, 21-14. They took that lead into the fourth quarter before Maus' long run tied the game.
Basehor scored on the first possession of the second overtime when Leppke hit Colin Murphy for a 10-yard score and a 28-21 lead.
When Dylan Faulconer hauled in a touchdown catch from Jeremy Carlisle on third-and-19, THS coach Mark Elston felt like his squad had momentum. Plus, the coach thought the THS defense was getting tired. Therefore, instead of kicking an extra point to force a third overtime (the first one ended without a score from either team), Elston decided to go for the victory and had Carlisle run up the middle. But the Bobcats' hefty defensive front swallowed up the quarterback just inches away from the goal line.
Elston said he didn't regret the play call.
"It was one that I had confidence in," the coach said after the one-point loss. "We knew they were gonna be blitzin' … We were a half-inch away."
Basehor-Linwood players were able to dig in and make the pivotal stop in the game. Hopkins said he was proud of his players' ability to make a play when it mattered.
"Oh, gosh yeah, a lot of times it comes down to that desire and willingness to go a little farther than you thought you could go, our kids went one more play. I am not saying it wouldn't go the other way if we had to do it again, Tonganoxie deserves a lot of credit, but it is better to have one more point than they did."
He also praised the coaches who took over in his absence and the work that defensive line coach Bruce Courtney did to prepare the team to make the key stop. BLHS coaches and players stress the importance of not giving up yardage near the goal line.
"They do a phenomenal job of teaching that mentality and not allowing any yardage deep inside the red zone," he said.
Basehor improves to 6-1 with the victory. It also is 5-1 in the Kaw Valley League and tied for first place. Most important, however, is that the Bobcats are 1-0 in district play. They play Bishop Ward (5-2) at 7 p.m. Friday at home.
Tonganoxie (5-2) will play Piper (5-2).
— Benton Smith of the Tonganoxie Mirror contributed to this report.