New business owner focuses on relaxation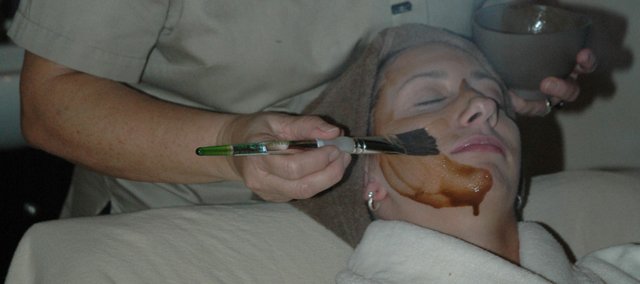 Blending relaxation and work isn't always an easy task, but new Bonner Springs resident Karen Lilley has managed to do just that with Pause … The Spa at 515, a new business she opened Oct. 10 at the Five Fifteen apartment complex and office suite.
Pause offers relaxation not only in the form of such services as body massages and facial peels, but also in the form of soothing music, muted colors and a "serenity room" that doubles as a waiting room, where customers can sit in comfort while waiting for their appointment to begin.
"It gets you into the zone of being very serene," said aesthetician Tammy Anderson, who works with Lilley at Pause.
Lilley opened Pause after working 18 years in the corporate insurance world, but she said her new spa was a place she had always wanted to be.
"I spent all those years wishing I had an environment like this to work in, or a place to retreat like this," Lilley said.
Lilley moved to the Lake of the Forest community about five months ago, and said she set her sights on the Five Fifteen building as a perfect place for her spa after visiting Coffee@515, a coffee shop located inside.
She said she had been getting ready to open such a place for a while now, and was even trained as a massage therapist herself, while still working, so that she would know the ins and outs of the business.
"I wanted to see what kind of toll it took on the therapists' bodies," Lilley, who has been a certified massage therapist for two years, said.
Though she doesn't give massages, Lilley has three massage therapists working at Pause, in addition to Anderson who offers facials, chemical peels and makeup artistry.
Anderson says anything people might need to feel good about themselves, they will find at Pause.
"Whatever you have a particular problem with," Anderson said, who also noted that each service was customized to fit the needs of the client. "If you need stress reduction, we cover it. If you need energizing, we cover it."
Though only open a little more than a week, Lilley said this was just the start of many more Pauses in the future. She wants to franchise her business, and she says plans are already under way to begin placing Pauses in hotel chains throughout the Midwest.
"So that people that are traveling and wouldn't necessarily have access to a spa would be able to do that while they're on business," Lilley said.
For now, however, Lilley will be placing her focus on Bonner Springs. She said she expected her business to fit in perfectly with other businesses in the downtown area, such as Madame Hatter's Tea Room and the Moon Marble Company.
"We envision people coming from all over Kansas City to Bonner Springs, not only for this but also all the other amenities (the city) has to offer," Lilley said. "Because Bonner Springs has never had a spa before, I think that helps … I think it just adds to (the business environment). It just gives people another reason to come to Bonner and spend the whole day."
The Oct. 10 date was a soft opening, but a ribbon- cutting ceremony will be 10 a.m. Friday, Nov. 6, followed by a grand opening at 4 p.m. the next day, Nov. 7. Between now and that time, Pause will still be open for business.
To schedule an appointment or for pricing and services information, call (913) 441-5151, or stop by Pause, at 515 E. Morse Ave. A Web site for the spa, pauseat515.com, will soon be available, Lilley said.