Peterson 2nd,
BLHS

girls 3rd at

KVL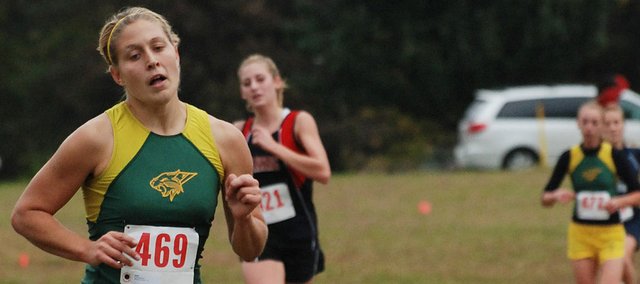 Photo Gallery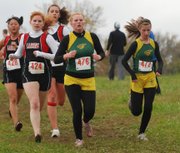 BLHS runners compete at KVL Championships
Kayla Peterson wanted to close out her Kaw Valley League cross country career with a bang, and she did just that.
Peterson, a Basehor-Linwood senior, turned in her best finish ever at the league championships when she placed second on Thursday at Shawnee Mission Park.
Peterson finished the 4,000-meter race in 16:43.91 and trailed only Perry-Lecompton's Katie Hirsch who won the race in 16:16.31.
For Peterson, the race was particularly special because she was also able to beat Lansing standout Lauren Jaqua who finished two seconds behind in third place.
"It really means a lot," Peterson said. "It's my first time beating her."
Peterson credited sophomore Hannah Tush with helping her run such a strong race. The teammates paced each other for much of the race and Tush finished fourth overall in 16:48.72. Both earned All-KVL first-team honors for placing in the top 10.
The duo led BLHS to a third-place finish in the team standings with 75 points. Mill Valley finished first with 45 and Lansing was second with 57.
"They really push each other in practice, and I guess it carries over into races," BLHS coach Jeff Venema said of Peterson and Tush. "They're used to being near to each other."
Shelby Miles missed All-KVL second-team honors by one spot as she finished 21st in 18:21.18. Brooke Redmond was 24th in 18:30.31 and Sheridan Miles rounded out the Bobcats' first five as she placed 27th in 18:36.96.
Megan Rehm as 37th in 19:16.53 and Casey Mahoney was 38th in 19:16.81 to round out the squad.
Venema said he was pleased with the girls' performance as a team in the cold, muddy conditions.
"Our girls ran with a lot of pride, and they did very well," he said, "but this isn't the best that we can be."
In boys' competition, Mill Valley finished first with 80 points, Santa Fe Trail was second with 81 and Turner placed third with 83. BLHS placed sixth with 143, but the Bobcats were shorthanded and also on the receiving end of a bad break.
Michael Torrez, the squad's regular No. 2 runner, missed the meet with an illness. On top of that, top runner Brady Blackwood finished ninth but was disqualified after taking a wrong turn late in the race.
"The combination of the DQ and the illness really torpedoed our boys team score," Venema said. "They actually ran very well, it just doesn't appear that way in the team totals."
Mitchell Cook led BLHS, placing 26th in the 5,000-meter race in 19:03.15. Bryce Garver was 27th in 19:11.81, Wyatt Kelly was 29th in 19:14.68 and Tony Almeida was 30th in 19:17:81.
Also for Basehor, Rob Peterson finished 36th in 19:45.72 and Brad Waterman was 38th in 19:59.56.
Bonner Springs senior Brooks Ballou was the KVL champion in 16:46.06.
BLHS next competes Saturday at the Class 4A regional meet at Wyandotte County Park. The girls race begins at 3:30 p.m., and the boys compete at 4:30 p.m.