Theater owner organizes improv comedy festival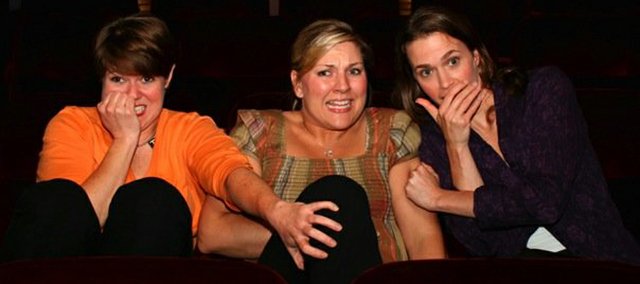 After being open for more than two years now, the owner of the Roving Imp Theater thinks it's about time he does something that's never been done before in Bonner Springs.
"We have our anniversary in April, so I really wanted something on the other side of the year," owner John Robison said of this weekend's ImpFest 2009, an improvisational comedy festival he will be putting on at the Roving Imp — the first of its kind to be seen in Bonner Springs. "And this is a big event that people will flock to the theater for — people outside and inside the improv community. It gives me a chance to bring in very talented improvisers from other cities."
Robison has secured a number of improvisational groups from the Kansas City metro area to perform throughout the weekend, including Improv-Abilities — a 10-person group out of Mission — and Tantrum — an eight-member group out of Kansas City, Mo. One of the headlining acts will include Brownies Don't Lie, comprised of nationally-renowned improviser Jill Bernard, from Minneapolis, and Trish Berrong, from Kansas City. Robison's own Dictionary Soup — a two-person group that includes himself and fellow improviser Keith Curtis — will also perform.
The groups will perform in five shows throughout the weekend, starting tonight and running through Saturday. Robison has also included three sessions of improvisational workshops to the weekend lineup, where participants will get a chance to learn more about the elements of improvisation and performance from experts in the craft. One workshop, taught by Bernard, will be about a concept called fireball theory.
"It will teach you how to come on stage like a fireball and ignite an audience right away," Robison said.
Another workshop, which Robison will teach, will be on utilizing emotion to keep the audience laughing.
"Because if you can make an audience care about you, they will laugh at you a lot more," Robison said of why emotion is important in any comedy routine. "I think one of my best tips as far as that goes is to, in a scene, say something emotional about the other person to show the audience that your character is a person and has emotions and warrants being cared about themselves."
Planning for the festival, Robison said, has taken about five months and has included such items as planning the schedule for the weekend and going through audition tapes to decide on the best performers. Robison said he invited improvisational groups from throughout the country to submit tapes and received about 50, which necessitated two nights of what he referred to as "a marathon watching session," popcorn included.
"Being in the business I'm in, there are certain qualities that we look for," Robison said of the selection process. "You can usually tell within about 10 minutes whether they're going to make it or not."
The qualities Robison was looking for he found in 11 total groups, all from the metro area. But despite being in close proximity to one another, Robison said festival goers should expect a variety of comedy this weekend, as each group brings something different to the table.
"There's never a time when this many disparate groups gather at the same time to perform, and it's really a great chance for a person to come see a wide variety of shows all at the same time," he said. "They'll get to see a lot of the different forms that improv can take, from wacky to improvised drama."
A full listing of performances is as follows:
• 8 p.m. Thursday, Oct. 22: Anomaly Orange, Tantrum, TrivProv and Spite
• 7 p.m. Friday, Oct. 23: Anomaly Orange, Biblioclast and Spite
• 9 p.m. Friday, Oct. 23: Improv-Abilities, Coma Chameleon and Tantrum
• 7 p.m. Saturday, Oct. 24: Omega Directive, Coma Chameleon and Improv-Abilities
• 9 p.m. Saturday, Oct. 24: One, Dictionary Soup, Brownies Don't Lie
All of the performances will be at the Roving Imp Theater, 115 Oak, Bonner Springs. Workshops will be at the theater and at the Bonner Springs Community Center. More information about the workshops and pricing for any of the weekend events can be found at rovingimp.com.