Veterinarian finds new home at Basehor clinic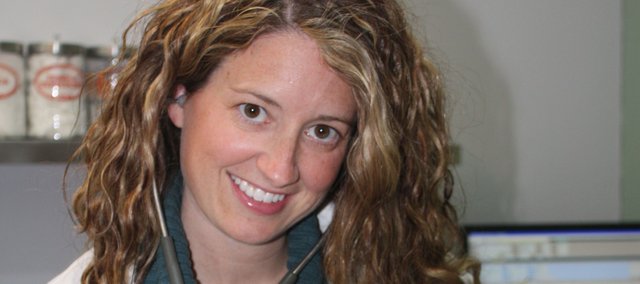 When Kelly Lightfoot heard Basehor was looking for a new veterinarian, the job appealed to her for more than one reason.
After graduating from Kansas State University in 2003, Lightfoot moved to Piper, where she went to high school and where she, her husband and her daughter still live. She started working at a veterinary clinic in Brookside, and she made a pact with her husband they would buy into a clinic within five years of her graduation.
Six years later, she received word about Basehor's veterinarian Larry Ringel retiring, and she jumped on the chance to make her dreams happen.
"It was really time to make the move," Lightfoot said. "I was ready to have my own practice and ready to be closer to home."
The city's proximity to Piper and its inviting community were two huge factors that drew Lightfoot to Basehor.
"I love it here," Lightfoot said. "The people are so welcoming. I love that small-town atmosphere where people just pop in and say 'hello.' I've already had people I went to high school with I hadn't seen in years pop in and see how I'm doing."
Her commute to work has been cut by more than 30 minutes, which Lightfoot says is extremely helpful as a new mom.
"It's so nice to be closer to my daughter," Lightfoot said. "If she needs something, I can be there. I get home in time for dinner, and I have more time with her in the morning."
Since Lightfoot took over Basehor Veterinary Clinic, many changes have been made to the building itself. She and her family completely renovated the inside of the clinic and added several new elements, including an in-house lab, new floors, a new X-Ray machine, new dental equipment and a computer system. Her team of workers finished the job in one week, and the practice was ready for reopening on July 27.
"We left here at midnight before we opened, making sure we had the front area and the exam room ready to see people," she said. "We left thinking, 'We did it. This is our family.' This clinic is definitely family owned and operated."
Lightfoot said she hadn't had a slow day since that Monday in July, and she wouldn't have it any other way. She is proud of the work she has accomplished thus far and is looking forward to her future in Basehor.
"It's been a fun, long ride," she said. "I was ready for this change. I had been here for a week, and I knew I made the right decision. I love the community and location, and I'm really happy to be here."