Law enforcement officials find missing Tonganoxie couple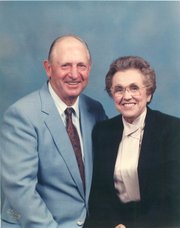 A rural Tonganoxie couple who family had lost contact with Monday evening have been found.
Major Ron Cranor, Leavenworth County undersheriff, said officers found the couple, Everett and Bernice Smith, about 1:40 p.m. Tuesday a few miles south of Tonganoxie and that their son was going to meet the officers there.
The Leavenworth County Sheriff's office had sent out an alert asking for information about the couple's whereabouts.
A family member told officers the last contact the family had with Everett Smith was a cell phone call at 9:10 p.m. Monday, according to the sheriff's office. Based on that conversation, the family member thought the Smiths were lost somewhere in Kansas.
Further attempts to reach the couple by cell phone had been unsuccessful.
Cranor said that about 1 a.m. Tuesday a Kansas City, Kan., police officer helped the couple find Interstate 70. They were near 18th Street at that time, Cranor said.