5 Questions: Halloween Hazards
Police chief gives advice for ghouls and goblins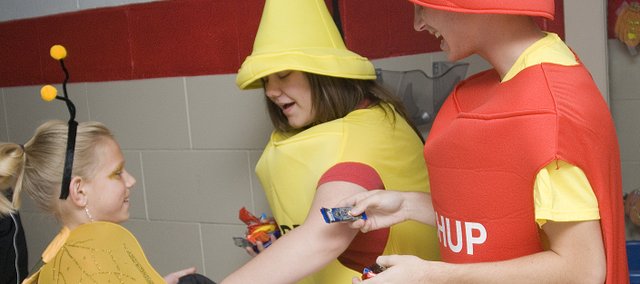 Basehor Police Chief Lloyd Martley talks about safe practices for trick-or-treaters on Halloween.
Q: At what age do you think it's safe for children to trick-or-treat without adult supervision?
A: Trick or treating has typically been for children up to the age of 13. I honestly feel that all children that are out trick or treating should have some sort of adult supervision. In today's society, children of all ages can be targets for abductions or worse.
Q: Where are the best places for children to be making the door-to-door candy runs?
A: Most neighborhoods are safe and usually welcome children trick or treating. We always encourage children and parents to be in well lit areas, away from busy traffic and usually in neighborhoods that they are familiar with.
Q: What are some other safety tips for trick-or-treaters?
A: We always recommend being in groups. There is safety in numbers. Wear light-colored costumes or carry flashlights for visibility. Try to avoid full-face masks, as they really limit a person's vision. We also encourage a child to carry either a cell phone or some other type of communications device just in case they should get separated from their group. Parents should always look through and inspect candy before the children are allowed to eat it. Never allow children to eat unwrapped candy or candy that appears to have been tampered with.
Q: What should parents and drivers on Halloween do to ensure trick-or-treaters' safety?
A: Parents should also carry a good source of light, as there are holes in the road and yards that can be difficult to see at night. They should also have some sort of communications available in case of an emergency. They should always keep a close eye on the children as they run about from house to house. Again, travel in areas that are familiar and be extra careful and aware of vehicle traffic when walking in the streets. Drivers should slow down and really be looking around as they go up and down the streets. Small children can pop out from behind a vehicle in a moment's notice and when it is dark they will be very hard to see.
Q: If parents or children would like more information on safe Halloween practices, where should they go?
A: If parents would like any additional information or suggestions, they can call the Basehor Police Department and we will be glad to assist. We hope everyone has a very safe and enjoyable Halloween.