City discusses industrial park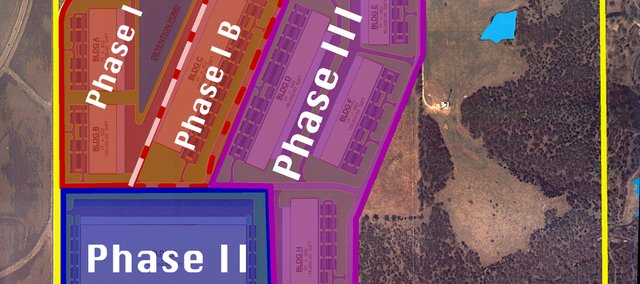 The Tonganoxie City Council likes what it sees for a new industrial park in Leavenworth County, but the sticker price is giving it reason to rethink its approach.
On Monday, the Tonganoxie City Council discussed the possibility of splitting up the development of the industrial park into more affordable chunks.
Mike Yanez, the city administrator, said by splitting up the industrial park into three different sections the city will be able to develop the 144 acres as it needs it. The total cost to develop the industrial park was estimated at $13 million.
"At least we have a place to start knowing that Phase I is going to be the most expensive section to start because we'll have to run the water and sewer lines to the property as well as build the detention pond, which would eventually serve the entire park," Yanez said. "But that would be the biggest bite to chew off to get this thing rolling. At least we think Phase I might be the easiest to develop and a good starting point to market."
The city, along with the Leavenworth County Port Authority, will request bids from engineering firms to see how it can develop the three different phases.
Councilmember Tom Putthoff said that one of the reasons why the city and the LCPA's land search committee chose the northwest section of the industrial park as Phase I, was because it would allow them to build up to 650,000 square feet of buildings before they would have to do any road improvements.
Yanez also wanted to make it clear to the council that this new phased plan would also be very flexible.
"If somebody came in tomorrow and stated they wanted a huge amount of acreage for a huge building, we might be looking at a Phase II," he said. "Nothing here is set in stone."
Yanez also said that the LCPA and the city felt that it didn't get its money's worth from the TranSystems engineering study when it only designed about half of the 237 acres that were available. He said the LCPA would be asking the firm about a plan for the remaining land.

In other business the Tonganoxie City Council:
• Unanimously approved $57,883.16 for asphalt purchases for the improvements on Second and Cox streets.
• Unanimously approved $11,583.09 for pay request no. 7 to Meadows Construction for work completed on U.S. Highway 24-40 and Main Street.
• Unanimously approved a renewal agreement with the City of Tonganoxie and Bucher Willis and Ratliff, for planning services.
• Was reminded of an informational meeting that will be held at 6 p.m. at the Tonganoxie VFW, 910 E. First St., regarding the county's plan for a special development district along County Road 1.