Night at the Museum thrills viewers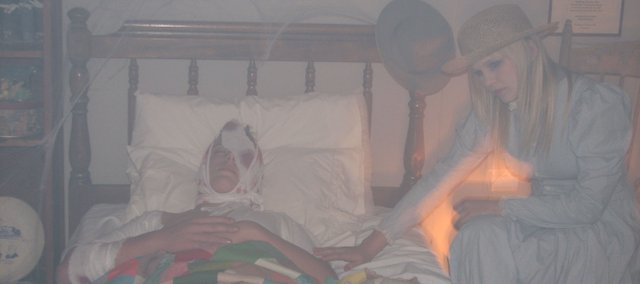 A howling wind swept over the flickering candles outside the Basehor Historical Museum. Eerie music floated from the darkened doors. Upon entering, a sweet-smelling cloud of fog lingered on the floor, and human shadows rested in every corner.
This was the scene set by the museum for its first Night at the Museum event, two evenings — Friday and Saturday — during which history came to life within the building.
The museum arranged five scenes that guests could behold while walking behind director Carla Crawford on a tour. At each station, Crawford provided visitors with a little information about the history of Basehor and told them how it pertained to that particular scene.
Crawford said despite the spooky feel of Night at the Museum, the event's organizers tried to make it more about history than about the upcoming All Hallows Eve.
"We wanted people to learn some history from coming here," Crawford said. "That's why we've included some things about Basehor, so everyone can learn, and it's not so much a Halloween thing."
On the first stop, a school teacher talked to invisible students, threatening to put them in detention if they didn't get to work.
Next, visitors could peer through the window of what is usually a hotel scene in the museum to see a small child sitting on a bed reading a book. Behind her, a slide show played featuring images of old children's toys.
Crawford then led the way to a cemetery scene where a young girl guarded the graves on horseback, calling out for her long-lost mother.
"I can feel you here, Mother," the girl said softly as she looked off into the distance.
The display mimicked Glenwood Cemetery on 158th Street, Crawford explained, where some of Basehor's most notable residents were buried.
Right after the cemetery, visitors saw two adolescent Civil War soldiers being cared for by a teenage girl. One sat in a wheelchair, and the other lay in bed bandaged from head to toe. Crawford talked about Kansas' role as a free state in the war that divided the country.

Last on the tour was a strict church choir teacher who demanded passersby to sing for their right to move on.
"Come on, sing," she beckoned. "Sing, sing, sing!"
Considering this was the museum's first time playing host to the event, Crawford said the weekend was a success.
"I think everything went really well," she said. "We had a good time, and we're just going to try make it bigger and better next year."
Crawford said the museum had not scheduled a date for next year's Night at the Museum, but the displays would most likely be different.
For more information about the Basehor Historical Museum, call (913) 724-4022.