Basehor-Linwood volleyball falls to Bishop Ward at substate tourney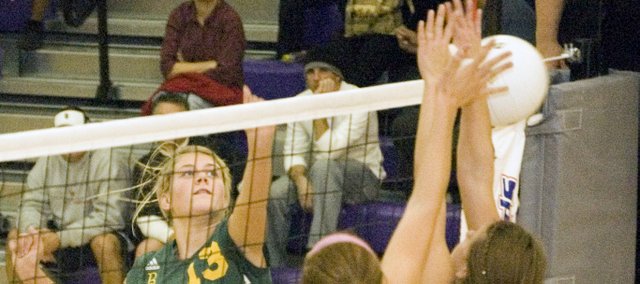 Basehor-Linwood's substate volleyball journey ended in the opening round on Saturday at Piper High School.
Bishop Ward beat BLHS in the best-of-three match, including a dominating 25-12 victory in game one.
Basehor bounced back with a strong effort in game two and won, 25-21, but the Cyclones regained control in the third game and held on for a 25-21 victory.
The Bobcats used a lot of energy to win the second game and ran out of gas late in the match. Overall, it was an inopportune time for the Bobcats to play flat.
"I haven't seen our team play that bad this season. They had bad timing for that type of match at substate," coach Tammy Zydlo said.
The Bobcats lacked energy for much of the match. One bright spot was sophomore Cara McCarty who led the team with eight kills. Senior Cassy Bever recorded seven kills.
Overall, the performance wasn't how the team wanted to end the season. The team committed 16 hitting errors, which was a season high for the Bobcats. The last time the teams played — a week earlier at the Kaw Valley League Tournament — BLHS committed just five hitting errors.
The Bobcats committed six missed serves. They also didn't block as effectively as they usually do. In an earlier meeting this season, BLHS recorded 19 blocks. In Saturday's game, the team had just 12.
The Bobcats ended their season with a 17-19 record.
As a sixth seed at substate, Zydlo said she felt the team squandered an opportunity to play in the substate final. Defending Class 4A state champion St. James Academy was on the other side of the bracket, and Zydlo said her program could have gained momentum by advancing to play in the finals.
"We have not been in a substate championship match in a while," she said. "No matter if we had won or lost, it would have meant a lot to our program."