Craft fairs become holiday tradition in Basehor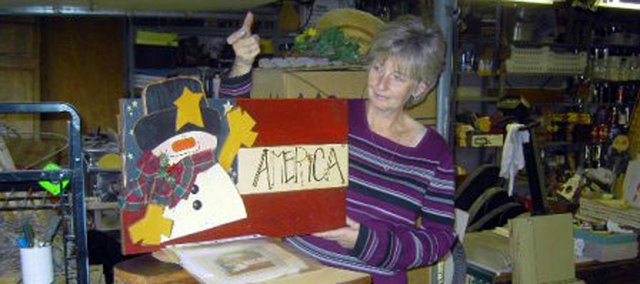 The holidays are around the corner, and Basehor residents can start their shopping early with two all-day craft fairs.
From 8 a.m. to 4 p.m. Nov. 7, shoppers can browse homemade items at both the Holy Angels Catholic Church and Basehor-Linwood High School.
With 27 vendors this year, the Holy Angels fair is on track for success, says Annie Clark, Holy Angels Catholic Women's Organization co-president. Booths will be set up all around Father Quinlan Hall at the church, and guests are welcome free of charge to look at all the merchandise and sample hot dogs, chili and desserts provided by the church.
"It's a fun day," Clark said. "We have all kinds of things here like purses, scarves, jewelry and crocheted items like table runners and place mats. We have a big variety."
The church charges $30 for vendors to set up a booth, and it suggests donations for raffle tickets from which visitors can win a handcrafted wooden chest, a cross stitch framed Christmas picture or a hand-painted porcelain doll. At the end of the day, Clark says the church usually raises about $800 from the craft fair, which it will use to support several organizations like Birth Right of Leavenworth and the Sister Jane Alliance Against Family Violence.
The Holy Angels craft show has been a staple in the community for about 20 years, Clark said, and it draws many repeat vendors and customers.
"We have people coming this year who have been coming for 10 years," Clark said. "It's a great opportunity for people to sell their products. I've only heard a few complaints in all my years working with this that someone didn't sell very well. It's generally a very successful day for everyone."
The Basehor-Linwood High School fair, which is organized by the Beta Epsilon Chapter of Alpha Delta Kappa, also has a lot of loyal sellers and shoppers. Janice Walker, president of the Beta Epsilon Chapter, said she and several other members are retired Basehor-Linwood teachers, and it was wonderful to see parents and former students each year at the show.
From selling booth space and charging a 50 cent or $1 admission fee, the fair brings in about $2,200 annually, which will go back to the community for high school scholarships and one college scholarship at the University of Saint Mary in Leavenworth. Beta Epsilon also gives a portion of the funds to the Basehor-Linwood Education Foundation.
"We're all about education," Walker said. "We all know it's such an important thing. We try to find ways to help the community however needed. We've been lucky enough to work with the wonderful Basehor-Linwood School District to make that happen."
All items at the Alpha Delta Kappa fair are handmade, Walker said, with flower arrangements, Christmas decorations and woodworking items selling tremendously well every year.
"We try very hard to select things people would like and would want to buy," Walker said. "We jury all the vendors each summer to make sure we have great items and a wide variety."
Both Walker and Clark said the craft fairs provide an entire day of entertainment for all ages.
"People always have a good time," Walker said. "There's so much to look at, and the food we serve is great. It's a fun family day."
For more information, or to inquire about becoming involved with one of the craft shows, contact Marilyn Daniels with Alpha Delta Kappa at (913) 724-1959 or Holy Angels Catholic Church at (913) 724-1665.