One tearful journey
Couple copes with infant's death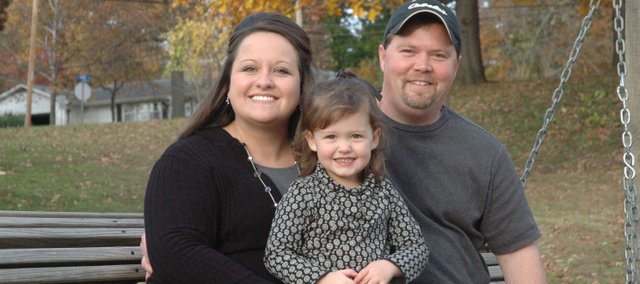 The kisses left behind on Alesha Pfrimmer's belly by her 3-year-old daughter, Kaylee, are now just a distant memory.
Alesha's belly, which was once filled with the activity of her growing son, is still. What remains, however, is a chance for a family who's suffered an immense loss to find a way to help others through similar tragedies.
"We can't justify the loss of our baby," Alesha said about her and her husband, Max. "But it does make us feel a little bit better to give back to someone else who's experiencing the same situation."
In their grief, the Lansing couple has decided to start a Midwest chapter of the TEARS Foundation, a nonprofit organization, based in Payallup, Wash., that seeks to lift the financial and emotional burden of families who have lost a baby between 20 weeks gestation up to one year old.
Alesha and Max's journey began in March of this year. Alesha was 5 months pregnant and enjoying the excitement of her young daughter and family toward the arrival of her son.
"Kaylee was so excited to be a big sister," Alesha said. "We'd gotten into a routine. She liked to kiss my belly."
One day, while at an outing at the zoo, Alesha experienced some cramping. It was nothing out of the ordinary at first, but a week later, her normally active son stopped moving.
"The silence of the room broke the bad news," Alesha said of her visit to the doctor. "There was no heartbeat."
To this day Alesha, Max and the doctors still don't know what took the Pfrimmers' son from them.
After the loss, the Pfrimmers began looking for a group to join in hopes of receiving help through the grieving process. But their search in Kansas came up with few options. After expanding their search outside the state, Alesha discovered the TEARS Foundation and contacted the only chapter in Washington.
"I wanted to be around parents who've gone through the same tragedy," Alesha said. "When you lose a baby, it's sometimes easier for outsiders to move on with life, but for the parents involved, they've lost a part of themselves, and they have to keep on going."
The mission of the TEARS Foundation is to offer bereavement care in the form of support groups and also provide funds for the cost of burial or cremation services.
The Pfrimmers will be heading up the Midwest chapter by planning various fundraisers and activities for families who also felt like they had nowhere else to turn. The money the Pfrimmers and others raise will stay in Kansas and be strictly available to Kansas families.
To get the ball rolling, the Pfrimmer's are going full steam ahead and planning a Midwest version of the TEARS Foundation's biggest event, Walk and Rock.
Kansas' Walk and Rock will be 10 a.m. to 1 p.m. Saturday, April 10, 2010, at Lansing High School, 220 Lion Lane, Lansing. Teams will collect pledges to be donated to the TEARS Foundation and walk around the track in honor of a lost baby.
Each team will also be designated a certain time to rock in a rocking chair on the field. Butterflies will line the track with the names of babies being remembered that day and various other activities will take place throughout the day, as well.
Team registration ends March 15, 2010, and those interested in forming a team or helping with the cause can contact Alesha and Max at (913) 297-0494 or kansaswalk@thetearsfoundation.org. More about the TEARS Foundation can also be found at thetearsfoundation.org.
"TEARS has given us a blessing to help others in our community," Alesha said. "It's the gift of giving that has been bestowed on our hearts."
Today, the Pfrimmer family is happy and staying strong. Alesha and Max's young daughter is about to turn 4, and while her mother describes her as "all girl, full of drama," you can see on Alesha's face as she watches Kaylee play at a playground full of life that she is thankful for what she has been given and the service to which it's led her.