Senior turns school project into donation program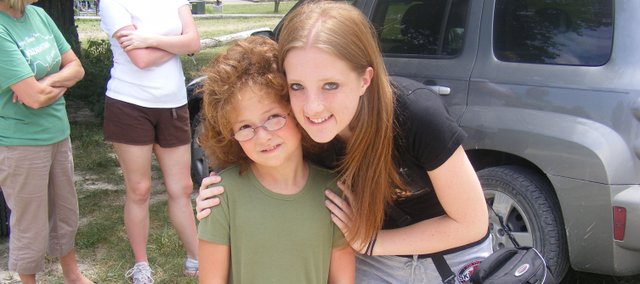 One way to go about a senior project at Bonner Springs High School is to focus on future career aspirations.
This is how Kayla Zimmerly's project began. But before she knew it, the project had morphed into something more meaningful.
"I want to be a pediatrician," Zimmerly, 18, said. "For my project I decided to work at a children's camp over the summer. In the beginning, I was just going for my project, I'll admit. But now, I'm counting down the days until I can go back next year."
Zimmerly's time at Camp Quality, a summer camp with locations across the country that gives children with cancer a chance to have fun and escape their illness, has led to an event that she hopes will help others such as the children she worked with during the summer.
As part of her project, Zimmerly has planned a two-day event to collect hair for the Locks of Love program, which takes donated hair to make wigs for cancer patients. From 3-5 p.m. Nov. 4 and 5, the public will receive a free cut and style from Bangz Salon, 125 Oak St., if their hair donation reaches 10 inches or longer.
While her project wasn't always going to include the Locks of Love portion, Zimmerly said she was compelled to give more because of her experience at Camp Quality.
During the one-week camp, Zimmerly was paired with a little girl who had cancer. As her companion for the week, Zimmerly said the purpose was to spend time together and be a friend.
"I was just a friend," Zimmerly said. "Not a doctor picking at them, not a mother they're getting tired of. Just a friend."
But it was a 7-year-old girl staying in Zimmerly's cabin who really inspired the Locks of Love idea.
"She had lost all her hair through treatment. And every night she wanted to play with my hair," said Zimmerly who has long hair past her shoulders. "It was like playing with my hair filled a void for her."
That's when Locks of Love came in. While Zimmerly has never donated before, she said her mom has, and it's something that's crossed her mind.
"She loved my hair so much, I figured someone else would, too," she said.
Zimmerly has never had short hair before, so even though she's happy to give back, she can't help but admit she'll miss her long locks.
That aside, however, Zimmerly is focused on the event and says she hopes to raise 200-300 inches of hair for Locks of Love, which works out to about 20-30 people.
"Each hair piece takes 10 donations," Zimmerly said. "(Locks of Love) needs everything they can get."