Barbecue fanatics heat up festival with special recipes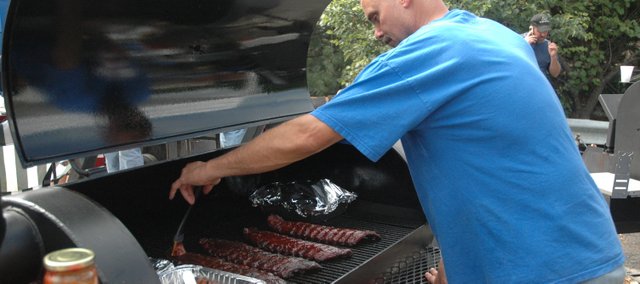 During the second year of the Smokin' on Oak barbecue contest at Tiblow Days, Jason Nilges was confident his team, Pig in a Poke, wouldn't make the same mistake twice.
Last year, in the inaugural year of the barbecue contest, Pig in a Poke finished second place in the chicken, ribs and pork categories. It was the team's brisket that may have cost it the grand prize.
"We turned our brisket in late," Nilges said, remembering last year's competition. "We could have won if that didn't happen. We're not going to be late this year."
The team kept to its promise, and although it didn't finish as well as Nilges would have hoped due to a growing number of contestants and competitors, he said he was glad to be back in his home town at the Bonner Springs competition.
"They do put on a good show," Nilges said of the way the competition is run.
Tony Corporon, director of the barbecue contest, said the event had 30 teams sign up and 20 teams on a waiting list. While only 29 teams showed up Friday for registration, he said the event saw a significant growth from the 13 teams that competed last year.
"This year's Smokin' On Oak BBQ competition was a spectacular success," he said. "It was all about food, family and fun, and that's what we wanted."
Teams registered Friday and set up smokers in the parking lot across from the community center. Many teams' friends joined them as they cooked into the night preparing for Saturday.
Come Saturday morning, the teams frantically put the finishing touches on their different meats and prepared to hand them off to a line of judges waiting to get a taste of some quality barbecue.
Team members from KC Smokin Boyz seemed relaxed Saturday morning as they drank mixed drinks and enjoyed each other's company.
"It's a good event," Chad Attebery said. "We think it's one of the best. It's friendly and happy, and we get good entertainment from Kobi's right downtown."
The team competed in last year's competition, and Attebery said they at least placed in every category. While they didn't have any secret recipes to share, Attebery said they are constantly trying new rubs and spices to improve with each contest.
"We experiment with different rubs and think how to make it better than the last time," Attebery said. "You never know what (the judges) want."
A few smokers down, team members from Pumpin' Smoke were putting a final layer of sauce over the several racks of ribs lined up on their smoker's grill.
Monte Cox, of Bonner Springs, said his team has been competing for two years and decided to come back to the Smokin' on Oak competition this year because it was a quality event.
"I felt like it was well run," he said. "It's also sanctioned this year. The event has a good local energy to it."
Winners of this year's competition are as follows:
• Chicken: Smokin' Wolves
• Ribs: Smoke N' Things
• Pork: Mad Hogs And An Englishman
• Brisket: Brew N' Bar-B-Q
• Grand Champion: Brew N' Bar-B-Q
• Reserve Grand Champion: Mad Hogs And An Englishman.