Cheerleaders see success during summer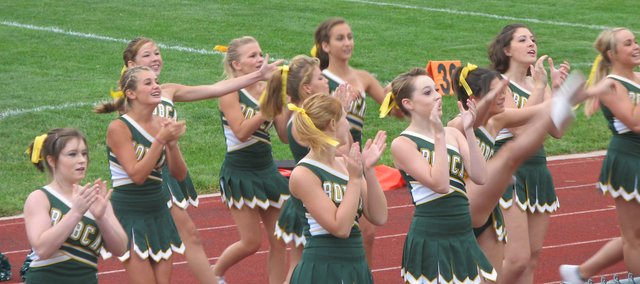 The 2009-2010 school year is in its beginning stages, and the Basehor-Linwood High School cheerleading squad has started the year with a bang.
The 14 girls attended a National Cheerleaders Association camp this summer in Lawrence and took home several awards, including the National Championship Bid award, Spirit Stick, five superior blue ribbons and one excellent red ribbon. Kelsey Davis, Haylee Mathews and Emily Williams received All-American nominations at the camp.
Haylee Mathews, senior co-captain, was the recipient of the All-American Award. She said the cheerleaders were proud of what they accomplished this summer and were eager to begin the regular season.
"We learned a lot at camp," Mathews said. "We really focused on teamwork, bonding and getting to know each other."
This year, teamwork will be a key component in the squad's performances, says senior co-captain Kelsey Davis.
"We've been working on some new stunts that are more difficult and that involve the whole team," Davis said. "That way, everyone is part of practices and stunts."
In order to build a stronger, more cohesive squad, Davis said the five senior cheerleaders had arranged monthly bonding activities. Once a month, the girls will get together to do something fun and create mutual trust and lasting friendships.
Not only do the cheerleaders want to strengthen their relationships with each other, senior Shelby Witt says they also want to reinforce their ties with the community.
"We're hoping to have several activities that involve different branches of the city," Witt said. "Like, maybe one day we'll do something with the firefighters and then the police department. It's a way for us to get to know more people in our community and for them to get to know us and what we're doing for the high school."
One such activity that will involve the cheerleaders and the city is the car wash the girls have planned all day Sept. 12 at Wolf Creek Marketplace. Mathews said the day would bring in funds for the cheerleaders, and it would also be an opportunity for the team to cooperate and start communicating with community members about future cheer events.
In addition to the new stunts and bonding techniques, the cheerleaders also have some fresh guidance from first-year coach Shannon Beat.
Beat was herself a Basehor-Linwood Middle School and Basehor-Linwood High School cheerleader, and she has returned to the area to instruct what she says is an excellent group of girls.
"They are all doing great," Beat said of the squad members. "They're working really hard. I'm really excited, and I think it's going to be a great season."
The cheerleaders are high-kicking off the season at 7 p.m. Friday at Santa Fe Trail during the first Basehor-Linwood football game.