Governor pushes statewide smoking ban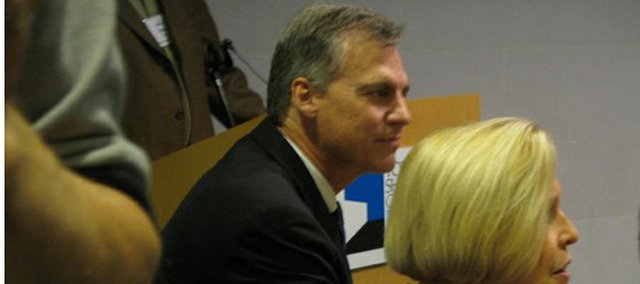 Topeka — Gov. Mark Parkinson said he would push for a statewide ban on smoking in public places when the Legislature convenes in January, and he may propose increasing the cigarette tax.
"We are going to put our full effort behind it," Parkinson said of the smoking ban. His comment, made Tuesday during a speech to the Governor's Council on Fitness, drew applause.
Andrew Allison, acting director of the Kansas Health Policy Authority, said he was pleased to hear of Parkinson's support of a clean indoor air law.
"All the research shows this will have a very positive impact on the overall health of Kansans and, over the long term, it will reduce health care costs," Allison said.
Nearly 4,000 Kansans die each year from smoking-related diseases, including 290 deaths annually attributable to secondhand smoke, according to KHPA.
The agency said Kansans spend nearly $1 billion per year on treatment related to smoking, including $200 million in Medicaid.
Many cities in Kansas already ban smoking in indoor public places, such as restaurants and businesses.
During the 2009 legislative session, a statewide indoor smoking ban was approved in the Senate but failed to pass the House.
Parkinson said he would try to persuade some House members to get on board with the proposal when the 2010 session starts.
He said he also was considering whether to propose an increase in the state tax on cigarettes, noting that it would increase revenue while also keeping some younger people from smoking.
He said a final decision on that would depend on whether more revenue is needed to shore up the ailing state budget.
Legislative staff members have projected a revenue shortfall of more than $500 million, although Parkinson has said it is too early to tell how big the hole will be.
But despite significant budget problems, proposed increases in the cigarette tax have failed to advance in the Legislature over the past couple of sessions.
Kansas' state tax on cigarettes of 79 cents per pack ranks 35th in the nation and is less than the national average of $1.32 per pack, according to the Campaign for Tobacco-Free Kids.