Puppets entertain, teach Basehor youths at library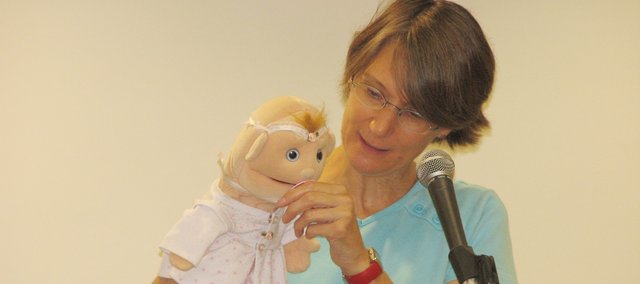 A chorus of tiny voices rang out from the basement of the Basehor Community Library in a mixture of "Twinkle Twinkle Little Star" and the alphabet song.
Storyteller Priscilla Howe directed the preschool singers Aug. 27 before she began a song and puppet show at the library.
"That was very good," Howe said to the children when the two songs were finished. "You are all very good singers."
Howe then told the boys and girls she wanted to introduce them to one of her friends.
"This is Trixie, and I keep her in my bag here," How said. "Just like you keep all your friends in bags, right? You pack all you friends up and bring them with you?"
The children laughed and said "no" collectively.
Trixie, a witch-like puppet character, came out and talked to the children, then requested Howe tell a story by Robert Munch called "Wait and See."
The story was about a young girl named Olivia who made a series of wishes after blowing out her birthday candles. Each of Olivia's wishes came true, and her parents continued making cakes so she could undo her previous wishes for snow, rain, sun and money. Olivia's final wish was for three baby sisters. Her parents concluded they would just have to wait and see if this wish would come true, as well.
"That's one of my favorite stories," Howe told the children when the story ended.
A baby puppet made the next appearance in the program, singing a song to the audience about an itsy bitsy tiger. Howe stopped the baby in the middle of her song.
"Wait, baby, did you say itsy bitsy tiger?" she asked. "I don't think that's how the song goes."
With that, the kids erupted in song again with the real version of the song "The Itsy Bitsy Spider."
Howe also told a story about a runaway pancake and involved the children in a tale about Mr. Wiggle and Mr. Waggle. The kids used their thumbs to represent the two friends who sang and danced and ate a picnic meal.
Toward the end of the program, Howe brought Trixie out one more time to say her farewells to the audience. She finished with a story about a wolf that was entranced by the lullaby of a little girl picking flowers in the woods. She sang the tune to put him to sleep, and she was able to escape the woods and return home safely.
The children surrounded Howe before they left to get an up-close look at her puppet pals.