Tiblow Days breakfast connects with community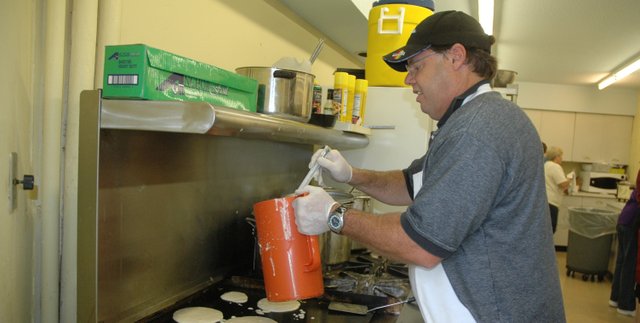 For hungry visitors, the Tiblow Days biscuits and gravy breakfast at the First Christian Church starts at 6 a.m. every year. For cook John Roberts, however, the day starts at the stroke of midnight.
Roberts has been cooking the biscuits and gravy breakfast ever since it has been at the church for the last three years, and has his pattern down. He starts mixing and rolling the dough for the biscuits, which he says are a simple buttermilk recipe, at midnight.
"And that's just a timing mechanism," Roberts said, noting that with the hundreds of people who attend the event every year, it's all a matter of being prepared.
Roberts will spend the six hours leading up to the breakfast rolling, cutting, stacking and wrapping the biscuits, making about 50 gallons of sausage gravy and about 30 gallons of pancake mix. He says he starts firing up the oven to begin baking the biscuits at 5:40 a.m., just in time for the early-risers who show up promptly at 6 a.m.
Though serving that many people may seem overwhelming to some, Roberts knows his way around a kitchen through working for 25 years as a cook and pastry chef for Marriott Hotels.
"It's really not that difficult, you just have to start early," Roberts, who currently runs the deli department at Price Chopper, said.
Roberts and several volunteers from the First Christian Church served 295 people Saturday morning during the Tiblow Days weekend, coordinator LeAnne DeTar Newbert said. The cost for the breakfast was $6 for adults and $3 for children, and all the proceeds go to the Vaughn-Trent Community Services Christmas fund. DeTar Newbert said the biscuits and gravy breakfast raised $1,000 for Vaughn-Trent this year. But apart from being a fundraiser, she said the breakfast was a major part of the Tiblow Days festivities.
"Tiblow Days is such an Americana event that this becomes just another piece of the community gathering," DeTar Newbert said.
The early-morning breakfast, consisting of the obvious menu items as well as pancakes, milk, coffee and juice, has its fair share of regular patrons too.
"I think it's a good deal," said Bonner resident Tom Morrell. "We usually come every year."
Bonner Springs resident John Walker said he comes every year as well, but the hearty breakfast is a bit of a splurge for him.
"I think it's super. I'll only eat it once a year though because there's a lot of carbs," Walker said, adding that his usual breakfast consists of such healthier items as fruit, yogurt and cereal. "It's a once-a-year breakfast for me."
Roberts is pleased when people enjoy his food, even if it is a simple biscuits and gravy breakfast. He says it's rewarding to be able to fill somebody up with good food you've made yourself.
"Cooking's always been a nurturing element," Roberts said. "When you satisfy somebody's hunger, it's a nurturing kind of thing. Something you either have in you or you don't."
The breakfast ends at 9 a.m., and after eating, most of the visitors are off to the yearly parade or carnival. But, for Roberts, his day isn't finished.
He has to head straight to work at the Price Chopper deli to serve the busy Saturday crowd. But he says the long hours are worth it.
"That's a connection with your friends and family and your community," Roberts said.